Japan's two largest carriers — All Nippon Airways (ANA) and Japan Airlines — will ramp up domestic capacity during the winter scheduling period, in anticipation of an expected recovery demand amid rising vaccination rates in the country.
ANA states that it will increase flight frequency on three domestic routes from 31 October. These are Tokyo Haneda-Sapporo, Tokyo Haneda-Fukuoka, as well as Osaka Itami-Okinawa Naha.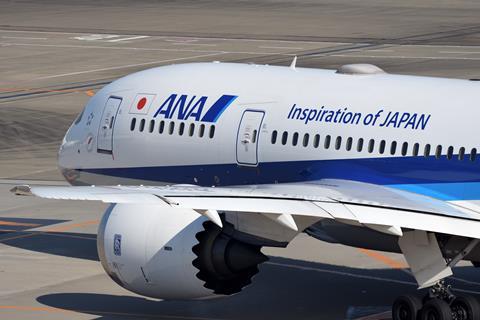 The Star Alliance carrier will add one additional daily flight for each of the three city pairs.
"As demand recovers, ANA will operate flights with larger aircraft while also utilising international aircraft to operate additional flights in response to rising demand," the carrier states.
ANA will also tap into low-cost unit Peach Aviation's operations to shore up capacity for routes from Nagoya and Fukuoka to Hokkaido and Okinawa islands.
As for JAL, it will be increasing frequencies on flights from Osaka Itami to Kumamoto and Okinawa Naha from 31 October, adding one daily flight on both routes.
At the same time, it will introduce the Airbus A350-900 on flights from Osaka Itami to Okinawa Naha, with two of three daily flights operated by the new widebody.
The Oneworld carrier is also introducing the A350 on another major domestic trunk route — Tokyo Haneda-Osaka Itami — operating the aircraft daily on the route.
JAL unit Hokkaido Air System will ramp up flights on two intra-island flights on Hokkaido, while its Japan Transocean Air unit will reinstate flights on three routes — two from Nagoya Chubu and one from Osaka Kansai — during the year-end peak travel period.
However, the two Japanese majors also announced cuts in their domestic network.
ANA disclosed it was reducing flight frequency on 12 routes, including some from Tokyo Haneda and Osaka Itami. JAL will slash frequencies on four routes, two of which are regional routes in Hokkaido.
Data from Reuters shows that close to 47% of the Japanese population have been fully vaccinated against the coronavirus. The country reported more than 22,000 new infections on 22 August.
Separately, ANA also announced that it was postponing the rollout of a number of international routes, citing border measure controls. The five cities — San Jose, Stockholm, Milan, Istanbul, as well as Moscow — were to have seven roundtrip flights each from Tokyo Haneda from 31 October.
The carrier is also reducing frequencies for flights from Haneda to Bangkok and Singapore.
On its cargo business, ANA will introduce its Boeing 777 freighters on flights from Tokyo Narita to Hong Kong, Qingdao and Taipei, operating them as cargo charters.
Effective 31 October, the airline will also ramp up flights on a number of cargo routes from Narita, including to Chicago, Singapore and Xiamen.
"Given strong demand for cargo operations, ANA will focus on increasing revenue by expanding the number of destinations to operate freighters and by utilising passenger aircrafts for cargo operations," the airline adds.