JetBlue Airways and American Airlines have launched the next phase of their so-called Northeast Alliance (NEA), together offering more than 700 daily flights from Boston and New York.
The two carriers, who began collaborating in February, say on 20 July that their combined forces represent the biggest choice of flights from the region.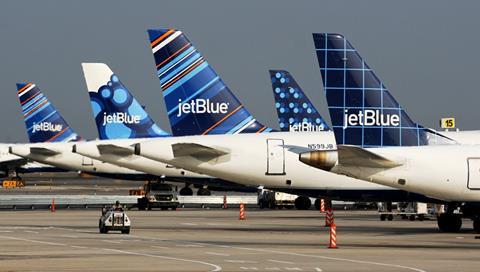 "With JetBlue's domestic strength and American's growing international network, we are unlocking more destinations for travellers, more flying for both our teams, a better suite of products and a premium experience in the northeast," says American's chief revenue officer Vasu Raja.
"With demand for travel returning, JetBlue's new low fare flying — along with the broader growth made possible with American through the benefits of the NEA — is well-timed for us to best meet the needs of more travellers in the Northeast and introduce more competition with new flying," says JetBlue's Dave Fintzen, vice-president of the Northeast Alliance.
JetBlue says it will expand capacity from the New York metropolitan area's LaGuardia airport to 35 daily departures by the end of the year and up to 50 per day by summer 2022. As a result it will be expanding to the airport's new Terminal B, home of American's Laguardia presence.
The New York-based airline will be adding flights to Jacksonville, Savannah, Nashville, Sarasota and New Orleans, beginning in October.
And for the first time, JetBlue will also begin flying to San Antonio, Kansas City, and Milwaukee from both Boston and New York's John F Kennedy International airport, and Puerto Vallarta, Mexico from JFK. Those flights will launch between October and next March.
"As a result of the partnership, so far this year customers have gained access to 57 new markets and more than 110 codeshare routes from Boston and New York, connecting the northeast to almost 150 worldwide destinations, including 10 new international routes," the airlines say.