JetBlue Airways and Spirit Airlines are the first two US carriers to apply for immediate exemptions under the Department of Transportation's (DOT) service requirements, striking 19 and 26 destinations in their respective networks.
The applications come as airlines begin to develop strategies for what will likely be a long period in which travel will be restricted and passenger demand almost non-existent due to the coronavirus pandemic.
Two weeks ago, the US government passed the CARES Act, which contains about $58 billion in loans and grants specifically designed to assist airlines in managing through the crisis. But the money comes with strings attached. Airlines must maintain "minimum service" levels so that domestic air transport is secured, even if at a much lower level than just six weeks ago.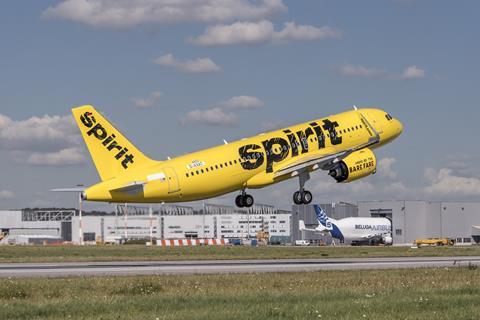 "JetBlue, like all other US airlines, is facing a liquidity crisis based on the current, near total lack of demand," the New York-based low-cost carrier writes in its filing on 8 April. "There are so few customers traveling to justify even the reduced service levels required by the order, and a rigid interpretation of the service obligation will only threaten to unnecessarily diminish JetBlue's liquidity, with no commensurate public interest benefit."
JetBlue says it earned $1 million in revenue each day in April, compared to $22 million every day in the same period a year ago. Its current operations cost $10 million every day, chief executive Robin Hayes said last week.
The airline says it is temporarily suspending service to eight airports, all within striking distance of other airports that are served by the airline – one of the prerequisites the DOT set out for the airlines to receive government aid.
According to the order, published earlier this week, depending on frequency with which the airline served a certain "point" in the past, it must continue to serve that point, but need not continue fly to all of the airports within that metropolitan area. For example, in New York, JetBlue continues to serve John F Kennedy and Newark International airports as well as Albany, north of the city. Therefore it proposes to stop service to LaGuardia International airport, Westchester County Airport, and New York Stewart International airport.
Jetblue is also requesting an emergency exemption authorising it to continue previously planned service reductions to 11 other cities "where there is no online co-terminal airport alternative", including Dallas/Fort Worth, Houston, Minneapolis-St. Paul, Portland Oregon, and Sacramento. It says that as a result of its agreements with mainline carriers American Airlines and Alaska Airlines, most passengers in those locations will be reaccommodated.
Fort Lauderdale-based ultra low-cost carrier Spirit Airlines writes that it, like other airlines "is in survival mode" and requiring it to maintain service as set out in the order "will rapidly exhaust Spirit's financial resources and manpower, while adding virtually nothing to those cities access to air transportation at this time". Therefore, the airline argues, it is not reasonable nor practical to continue serving all of its destinations as before.
It requests temporarily dropping 26 cities from its network, including San Francisco, New York, Indianapolis, Jacksonville and Austin, where it says "based on publicly available future airline schedules [the cities are] well-served by numerous other airlines".
"Requiring Spirit to continue to operate 3 flights a week to these cities, will rapidly exhaust Spirit's financial resources and manpower, while adding virtually nothing to those cities access to air transportation at this time," Spirit writes. "In terms of the considerations specifically referenced in the CARES Act… each will have good continuous access to air transportation either directly or through a neighboring hub."
One of the airports in both JetBlue's and Spirit's request for relief is Rafael Hernandez International Airport in Aguadilla, Puerto Rico, which the FAA has closed completely. The island's San Juan Luis Munoz Marín International airport remains open.