JetBlue Airways has complained to the US Department of Transportation (DOT) that it is being locked out of securing slots in London for its planned transatlantic expansion.
In a filing with the DOT on 19 January, the New-York-based low-cost carrier accuses the UK government of protecting airlines which currently have slots at the two major international airports in London but are not using them, thus creating a barrier to new market entrants.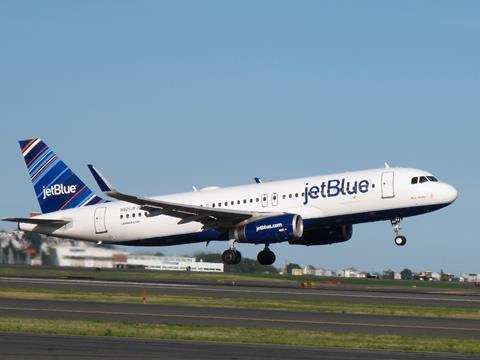 "JetBlue continues to face slot uncertainty as a result of the United Kingdom's decision to delay addressing crucial matters affecting slots at London-area airports including both London Heathrow Airport and London Gatwick Airport," the US carrier writes. "At [Heathrow], existing slot holders have reduced services at a scale previously unimaginable while new entrants like JetBlue remain locked out."
The airline specifically mentions Virgin Atlantic, which is no longer operating from Gatwick, and Norwegian Air, which last week announced that it was ceasing long-haul transatlantic operations. Both airlines have, however, been permitted to keep their slots at the two London airfields.
"At the same time, carriers like JetBlue, poised to enter the transatlantic market and disrupt the status quo and fulfil a crucial need for low-cost carrier transatlantic service, are unable to sufficiently secure [Heathrow] slots or consistently timed [Gatwick] slots because of the fiction that carriers are going to return to the pre-Covid-19 status quo," the airline says.
"They are not, and the UK government needs to address this reality immediately," JetBlue writes.
JetBlue has repeatedly said it aims to begin transatlantic service, reiterating as recently as December that it still planned to launch flights between New York and London in the second half of 2021.
Last week the FAA granted slot-waiver relief to UK carriers for the summer 2021 travel season at numerous slot-restricted airports in the US. That means that airlines may keep their allocated slots at capacity-constrained destinations like New York's John F Kennedy International airport, even if they do not fulfil rules that normally require them to use 80% of the slots to avoid losing them.
That requirement was suspended during summer 2020, and in the current winter travel season, due to reduced capacity as a result of the coronavirus pandemic which continues to disrupt travel worldwide.
While the relief gives existing carriers freedom to reduce schedules without worry that they may not be able to ramp up service again once customers return, it frustrates those like JetBlue who are looking to enter a particular market for the first time.
The carrier also says on 22 January that it is taking additional payroll support from the US government. The airline says in a regulatory filing that it will take $252 million in grants and loans, in addition to the $936 million it took last year under the CARES Act payroll support programme.
In December, the US government set aside an additional $15 billion for airlines to help them manage through the depressed demand resulting from the global health crisis. That is in addition to the $58 billion in federal aid the airlines received in March 2020.