US low-cost carrier JetBlue Airways has joined US airline industry groups in criticising capacity reductions at Amsterdam Schiphol airport, as it risks losing hard-won slots at the European hub.
In a 29 September complaint filed with the US Department of Transportation (DOT), JetBlue argues that it is "uniquely situationed among US carriers" because it faces expulsion from Schiphol at the end of the winter 2024 travel season unless the DOT takes action against the government of the Netherlands.
"JetBlue asserts that the imminence of that expulsion threat necessitates the department's more immediate imposition of targeted and impactful counter-measures," the New York-based carrier claims.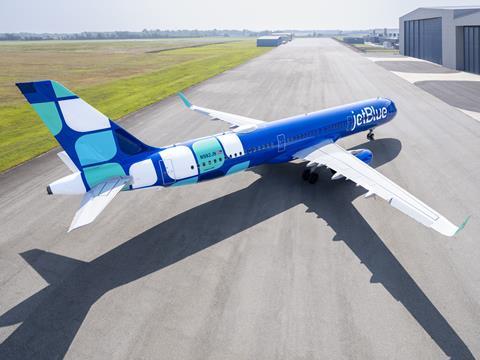 JetBlue's filing comes on the heels of a 22 September joint complaint filed by industry advocacy group Airlines for America (A4A), which alleges that the Dutch government has violated European Union regulations and the US-EU Open Skies Agreement of 2007 by "unlawfully mandating capacity reductions" at Schiphol.
Last summer, the outgoing Dutch government proposed cutting Schiphol's flight capacity to a 440,000 annual maximum – down from 500,000 flights – in a bid to reduce noise from air traffic. It is now proposing a cap of 452,500 flights starting in 2024, and has reduced the number of night flights at the airport from 32,000 to 28,700 annually, which the government says could reduce noise pollution by about 15%.
Such efforts will "materially and adversely impact US carrier because they will result in the permanent confiscation of historic slot rights" and result in the "foreclosure of new entry by US carriers at the airport", argues A4A.
JetBlue notes that it voluntarily withdrew a previous complaint it had filed with the DOT, which alleged that Dutch authorities had for years discriminated against its requests to secure take-off and landing slots at Schiphol.
JetBlue finally launched flights from New York's John F Kennedy International airport to Amsterdam in August, and Boston-to-Amsterdam flights began earlier this month.
Thanks to the range provided by JetBlue's Airbus A321LR aircraft, the carrier's transatlantic expansion now includes three cities – Amsterdam, London and Paris.
But JetBlue will likely be forced to cut its Amsterdam flights at the conclusion of the winter travel season in the Northern Hemisphere.
"Absent urgent and decisive intervention by the [DOT], JetBlue will not be able to continue to serve [Schiphol] on a year-round basis" after 30 March 2024, the carrier says.
JetBlue says it has been informed by the airport's slot coordinator that "there is a near mathematical certainty that no slots will be available for JetBlue's service during the summer 2024 scheduling season".
"The Netherlands is obligated to allow a fair and equal opportunity for JetBlue to compete in providing international air transportation," the carrier contends.
Dutch carrier KLM also recently denounced the capacity reductions at Schiphol. "This is not about the number of flight movements but about reducing noise," it said on 1 September. "The noise targets can be achieved in a better way that would really benefit local residents, the climate, airlines and the Dutch economy."
KLM has proposed alternative options for reducing noise pollution over Amsterdam, including operating newer aircraft.