JetBlue Airways will launch operations between New York and Amsterdam "late this summer" as the carrier finally gains a long-sought foothold at one of Europe's busiest airports.
The New York-based airline said on 11 April that nonstop flights will operate daily between John F Kennedy International airport and Amsterdam's Schiphol airport using Airbus A321LR aircraft. The carrier did not specify a launch date.
The new route between New York and Amsterdam could mark the end a saga during which JetBlue said that Dutch regulatory authorities were discriminating against the airline's slot requests.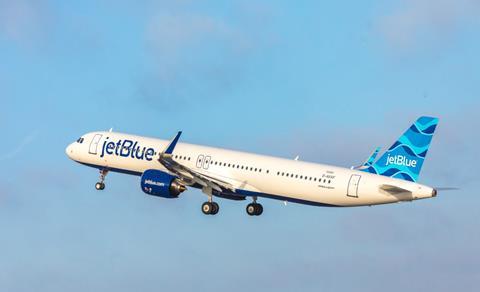 JetBlue has maintained that its efforts to secure take-off and landing slots of Schiphol have been rebuffed for years.
"This route is long overdue for some competition," says Robin Hayes, chief executive of JetBlue. "For too long, the US legacy carriers – backed by their joint ventures with other global airlines that enjoy immunity from antitrust laws – have locked customers in with very expensive fares and mediocre service."
"Just like we're doing in London and Paris, we will bring fares down and improve the experience for customers flying between the US and Amsterdam," he adds.
Flights from Boston to Amsterdam will begin shortly after the launch of the New York-Amsterdam route. And JetBlue's transatlantic expansion will soon include three European cities – London, Amsterdam and Paris. Flights from JFK to Paris' Charles de Gaulle airport will begin in June 2023, JetBlue says.
"JetBlue's new service to Amsterdam will provide the airline with a high-visibility presence at another top airport in Europe and establish a new customer base of travellers looking to connect between Europe and the US," the airline says.
On 14 February, New York-based JetBlue filed a complaint with the US Department of Transportation alleging "blatant" discrimination on the part of Amsterdam's slot coordinator – Airport Coordination Netherlands – and suggesting that the US government confiscate slots from Dutch carrier KLM as a last resort.
"The refusal of the government of the Netherlands to make slots available to JetBlue is due to the government's noise reduction plan involving a drastic reduction in the number of annual flight movements at Amsterdam," JetBlue said at the time.
On 21 March, JetBlue begrudgingly agreed to take two pairs of daily slots at Schiphol from JFK and Boston Logan International airports. But the slots were temporary – only guaranteeing access to Schiphol through the summer travel season in the northern hemisphere – and at "commercially questionable" times, the carrier complained in a filing with the US Department of Transportation (DOT).
"The access issues identified in its complaint will continue," the airline said in the filing.
But a Dutch court recently blocked the government's plan to cut the number of annual permitted flights at the Amsterdam airport from 500,000 to 460,000 to reduce noise pollution – "giving JetBlue confidence there is room for it to enter the market", the carrier says.
"We're confident that customers, Amsterdam airport officials and the Dutch government will be delighted by JetBlue when they see first-hand the positive impact we can make and we look forward to working together with Dutch officials to ensure long-term success in the market," Hayes says.
Meanwhile, JetBlue, United Airlines and possibly others are planning to cut flights at major hubs in the Northeast USA to support the Federal Aviation Administration's efforts to reduce air traffic congestion in the region during the busy summer travel season. The FAA has acknowledged that it lacks enough air traffic controllers to handle the expected seasonal peak.
The FAA recently said airlines can leave up to 10% of assigned slots unused at airports in New York and Washington, DC without the risk of losing them to competitors.
JetBlue began transatlantic service in August 2021 with flights to London, and now flies from Kennedy and Logan to both London Gatwick and London Heathrow airports using A321LRs, which have a 4,000nm (7,408km) range "but with the economics of a single-aisle aircraft", the carrier says.