Dutch carrier KLM is ramping up the number of destinations it serves to near-parity with 2019 figures for European services, but frequencies will remain well down year-on-year across all sector lengths.
"KLM has opted to expand the number of destinations first, so that customers have the widest possible choice," the SkyTeam carrier states. "The next step is to increase frequencies or increase capacity by deploying larger aircraft on certain routes."
At 91 destinations – up from 72 in July – KLM's European network in the August-October period will nearly be flat with the same period in 2019.
The carrier notes, however, that although 91 is just one fewer destination year-on-year, "the number of flights still lags far behind the level of 2019".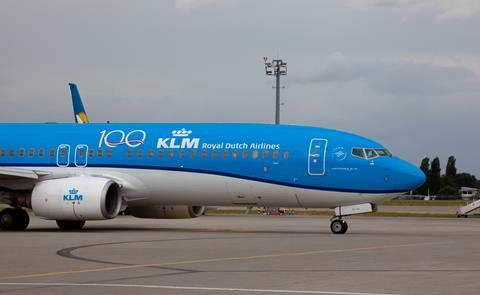 .
KLM's planning for the three-month period shows European services will be down around a third in terms of number of flights, at 34,500 versus 52,500.
Intercontinental destinations, meanwhile, will reach 61 in September and October, down from 69 in the same period of 2019.
KLM is serving 51 intercontinental destinations in July, and plans to serve 59 in August.
The carrier notes that one-third of its intercontinental flights are currently cargo-only, but that it is seeking to resume passenger services "as soon as local travel rules allow".
In terms of flight numbers, it is planning to operate some 5,800 intercontinental services over the August-October period, down 36% from 9,100 in the same period of 2019.