While Latin American airlines focus on managing numerous economic and regulatory challenges across the continent, some have started to look again at a country that has been out of the picture for much of the last decade as a possible target of expansion: Venezuela.
"We are definitely looking at that," Estuardo Ortiz, chief executive of Chilean ultra-low-cost carrier JetSmart said on 23 October on the sidelines of the ALTA AGM and Airline Leaders Forum, in Cancun, Mexico.
JetSmart, which is in the process of gaining certification to establish a subsidiary in neighbouring Colombia – its fourth AOC on the continent – plans to begin flying domestic routes in that country that could also be interesting for the large Venezuelan community residing there.
"We'll be flying to a city in Colombia that is very close to Venezuela," he says. "The reality of the matter, the driver of this is the VFR market – visiting family and relatives."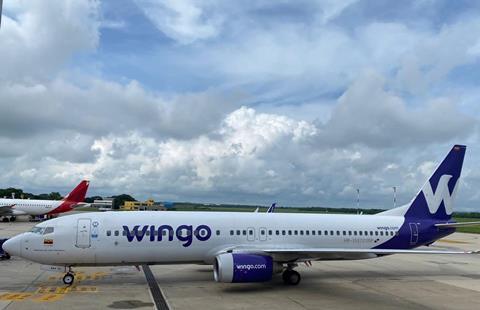 Connectivity outside of the country has been curtailed in recent years due to an ongoing socioeconomic and political crisis that has resulted in hyperinflation, the lack of basic necessities and high poverty and crime rates. As a result, millions of Venezuelans have left the country.
The diaspora across the continent now numbers between eight and 10 million, says LATAM Airlines Group chief executive Roberto Alvo. Five million of those are in Colombia alone, Ortiz adds.
"People migrate, they have family members, they want to visit them," Alvo says. LATAM operates flights from Bogota and Lima to the Venezuelan capital Caracas, he adds. Travel to the country has "been lacking" and LATAM will look to increase operations to the country to "give the opportunity to the Venezuelans to go back and visit their families".
Aeromexico, meanwhile, has Venezuela on its long-term radar, but will be busy expanding in a more lucrative market in the foreseeable future.
"The main expansion in the next year, year-and-a-half will be to the US," Aeromexico chief executive Andres Conesa says. "But certainly after that, maybe."
Panama-based Copa Airlines continues to fly to the country, with five destinations in Venezuela reachable from its "hub of the Americas" headquarters at Tocumen International airport in Panama City - Caracas, Maracaibo, Valencia, Barquisimeto and Barcelona.
"Copa never stopped operating flights even with the recent political and currency crisis in Venezuela," says Pedro Heilbron, Copa's chief executive. "But we have adapted our capacity to have more or less flights depending on the situiation. There were times we had to reduce capacity, and times we could add capacity."
According to Cirium schedules data, in addition to Copa and LATAM Airlines, Caribbean Airlines and Copa's subsidiary Wingo as well as Colombian state-owned carrier Satena are the only other non-Venezuelan airlines operating to that country.
International carriers began scaling back capacity from Venezuela around 2014 amid the challenges, particularly the difficulties in repatriating money earned from sales in the country.
IATA director general Willie Walsh though notes airlines are growing more optimistic about Venezuela.
"I think the issues in relation to safety and security are not a major concern," he says. "I know from speaking to a number of the airlines that are operating there, they are happy with the nature of the operation there.
"I think everybody would like to see the situation with regard to the repatriation of money addressed," he adds.
"I think if there is greater evidence that can happen, then you will see more and more carriers re-enter the market, and certainly those that are already there increase significantly their schedules, because it was – and will be – a very attractive market."
Walsh adds: "Airlines will not continue to operate in countries if they can't get their money, in effect it means they are operating for nothing.
"But I think think the situation in Venezuela is improvement and people are more optimistic of being able to increase capacity and return to the market."