Greece, Turkey and Spain led the growth in flight activity across Europe over the past two weeks as Eurocontrol data illustrates leisure markets are benefiting most from the easing of travel restrictions in the region.
In a social media update today, Eurocontrol director general Eamonn Brennan highlighted a sharp increase in flights across many European markets over the past two weeks in line with the gradual reopening of destinations.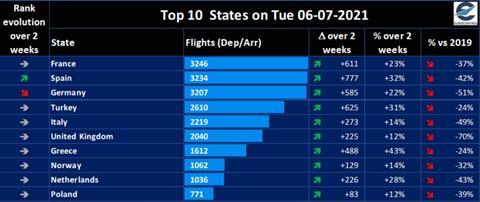 That includes a 43% lift in flights to and from Greece, with Turkey showing a 31% rise across the two weeks to 6 July 2021. In both cases, the figures are down just 24% on the same period in 2019.
Activity to and from Spain also increased almost a third over the past two weeks and is the second busiest European country by flights over that period. Despite the lift, flight activity remains 42% down on the same period in 2019.
The Eurocontrol figures show a double-digit rise in flight activity across the 10 busiest European markets over the past two weeks.
The UK had the joint smallest growth in flight activity over the fortnight, at 12%. That reflects both the relatively small number of countries on the UK's green list for quarantine-free travel, as well as restrictions imposed by countries on travel from the UK because of the current high levels of the coronavirus Delta variant.
UK flight activity over the past two weeks is still 70% down on 2019 levels, by far the lowest rate among Europe's 10 biggest flight markets.