Scottish regional carrier Loganair's chief executive Jonathan Hinkles believes a shift in thinking at Heathrow airport may help support development of regional connectivity at the London hub after securing permanent slots there.
Loganair began flying the Isle of Man-Heathrow route in late 2021, using slots temporarily vacated at Heathrow during the pandemic.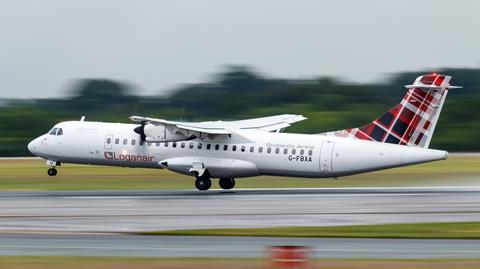 "We were one of a number of airlines that started operating at Heathrow through the pandemic," Hinkles told FlightGlobal during the recent Airlines 2022 conference in London.
"Having established services there we were hopeful this opportunity would present itself, we just weren't sure how and when. It is something that will allow us to plan with certainty from now on in.
"We've been running fly Heathrow-Isle of Man, and now we can plan with certainty that at least that service will be there, and hopefully perhaps more if the opportunity presents itself."
Alongside being able to secure permanent slots at Heathrow, Hinkles cites a change in approach towards domestic flying at the airport.
He points to changed charges and fees at Heathrow from 2023, which drops a minimum change for domestic flights and offers a rate concession for smaller aircraft. "You don't tend to associate those aircraft with operating out of Heathrow," he says. "That is a real change in attitude."
Speaking earlier during an Airlines 2022 panel debate, Hinkles noted that securing slots remains a key a challenge to developing a larger Heathrow operation. "But on all other factors you are looking at a position where the planets have aligned probably more so than they have in any previous years to say, 'yes, regional connectivity at Heathrow there is an opportunity'," he says.
"We are pleased to be spearheading that with the first new slots to be granted to a new UK airline in about 25 years."
Loganair has been operating the Heathrow-Isle of Man flights with ATR 72 turboprops and the airline recently announced plans to take eight more ATR 42s to replace its remaining Saab 340s.
"[We've got] eight more ATRs replacing the last Saab 340s, providing a little bit of capacity for fleet growth. We've already got 15 ATRs in the fleet as of now, that will take us up to 23 aircraft by next summer.
"From a fleet perspective that will set Loganair up for the next decade in a way that bringing the first Saab 340s in 1999 set the fleet up for the 20 years that followed. It has been a fine workhorse for us, but it's time to bid the [Saab] fleet a fond farewell.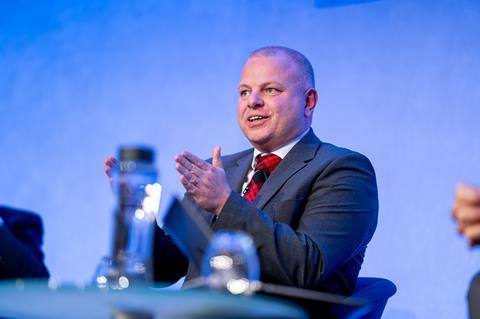 "It will move us from operating five different groups of aircraft on the AOC to four," he says, noting the airline has already simplified its jet feet around Embraer ERJ145s. "That will give us a simplified Embraer fleet, ATRs and, as has been the stalwarts of Loganair's fleet for decades, Twin Otters and Islanders."
Loganair, whose owners Stephen and Peter Bond in October disclosed they had appointed advisors over a possible sale of their stake in the airline, has enjoyed a strong recovery from the pandemic. The carrier returned to profit in the year ended March 2022 and Hinkles is upbeat that strong demand is continuing despite economic headwinds.
"There are a number of reasons why we are optimistic, not least that the demand patterns are not showing any material signs of slowing. You would have thought with the headlines out there, that demand would have hit the buffers long ago and it hasn't.
"This much vaunted issue of pent-up demand, it's just demand. Demand is demand. There will be, I imagine, some slowing. But we've got a good head of steam built up."