Loganair is to shift public service obligation (PSO) routes from London to Derry and Dundee to Heathrow airport after securing slots at the latter.
The UK regional carrier currently serves Derry from London Stansted and Dundee from London City airport. The latter route has same-aircraft connections to Orkney and Shetland. The two routes will shift to Heathrow from 6 May.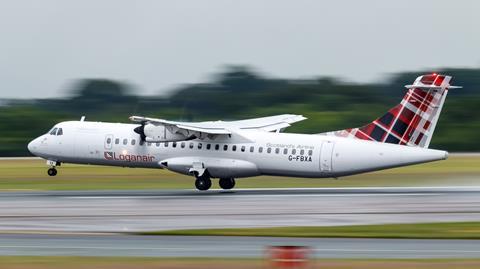 Loganair began flying from Heathrow to the Isle of Man in late 2021 using slots temporarily vacated at the London airport during the pandemic, before later securing those slots permanently. It recently revealed it has secured access to 30 additional weekly slot-pairs at Heathrow under a lease arrangement with British Airways.
Loganair chief executive Jonathan Hinkles says: "The move to Heathrow truly is a game-changer for UK regional air services. Alongside excellent ground transport links into central London, the new range of global flight connections will bring new inward investment opportunities and tourism into the UK's regions, together with enabling travellers to use their local airport to fly worldwide for the first time."
Alongside securing access to the Heathrow slots, Hinkles has previously cited changed fee structures at Heathrow this year as having made regional services more economically viable.
The UK Department for Transport recently awarded PSO funding for a further year for Loganair to operate London to Derry services.