London City airport has submitted an application to its existing planning permission which would increase the current cap on annual passenger numbers from 6.5 million to 9 million by 2031.
The city centre airport's application includes a request to extend operating hours from from 12:30 to 18:30 on Saturdays, with an additional hour over the summer for arriving flights. It is also seeking to raise, from six to nine, the number of flights permitted in the first 30min of operations from Monday to Saturday.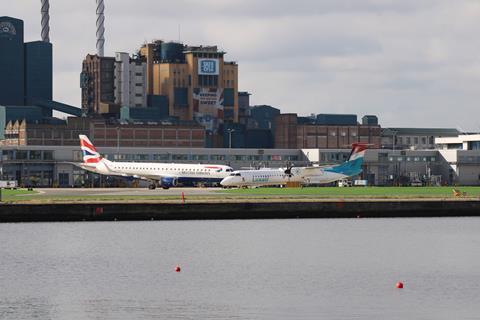 London City airport chief executive Robert Sinclair says: "As we bounce back from the pandemic and demand increases, we need to ensure London City can accommodate the increase in business and leisure passengers forecast over the next decade or so.
"We have listened to the feedback provided in our extensive consultation, and have adjusted the proposals to reflect concerns raised, including reducing the proposed increase in operating hours on Saturdays, reducing the proposed increase in flights in the first 30 minutes and retaining the existing limit on flights in the last 30 minutes," he says.
Initial proposals, which were consulted on over the summer, had envisaged seeking to increase flights in the first half hour to 12 and for Saturday operations to be extended to 22:00.
The airport's application also stipulates that all services operating the additional flights utilise more efficient new-generation aircraft.
"The proposals have been developed in close consultation with the airport's major airlines who support the sustainability ambitions in the plans," says Sinclair.
London City airport, which recorded a high of 5 million passengers in 2019, expects to reach 3 million passengers this year.