JetBlue Airways and Polish carrier LOT intend to begin a codeshare arrangement under which they will jointly sell flights from Europe and the USA.
The carriers on 5 October requested authority from the US Department of Transportation (DOT) to implement the deal, which would give LOT a new US sales partner shortly after it stopped sharing codes with United Airlines.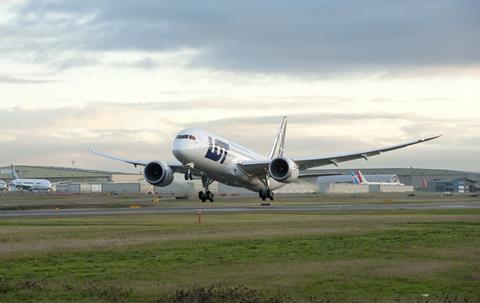 JetBlue and LOT already have an interline agreement, through which LOT sells tickets on some JetBlue flights.
But the codeshare deal would strengthen those ties.
The carriers plan to place JetBlue's code on several LOT flights, starting with those from Krakow, Rzeszow and Warsaw to Chicago, Los Angeles, Miami, New York John F Kennedy (JFK) International and Newark, the carriers says in an application to the DOT.
In return, more than 40 US domestic JetBlue flights from JFK, Newark and Los Angeles will carry LOT's code. Each carrier would be able to sell those flights as their own.
The airlines seek to begin the arrangement "as soon as all necessary government approvals are received", their application says.
LOT previously had a codeshare deal with United under which they shared codes on dozens of United's domestic US flights and some LOT flights to and from Warsaw, according to Cirium.
United confirms it has ended that codeshare partnership but does not elaborate. Cirium shows that the agreement ended this month.