German flag carrier Lufthansa has called for a "clear perspective" on a transatlantic air corridor between the USA and Europe as bookings for long-haul travel surge.
The Frankfurt-based airline says on 18 May that in the past two weeks there has been "much more demand" for summer flights to the USA than in the previous months.
The carrier has experienced surges "up to 300%", leading it to increase frequencies between Germany and North America, and reinstating flights from Germany to Atlanta and Orlando.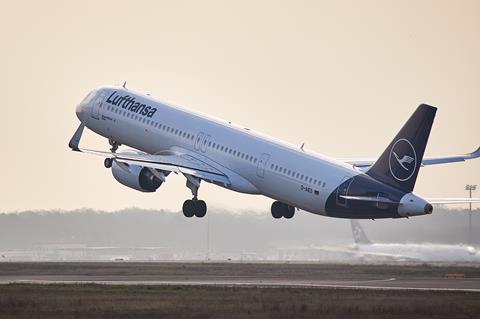 "We need a clear perspective for USA travel now," says Harry Hohmeister, Lufthansa Group's member of the executive board responsible for commercial passenger operations. "People are craving for vacation and cultural exchange, as well as reuniting with their families, friends and business."
Due to the great significance of transatlantic air travel for the global economy, he says that lower infection rates and rising vaccination rates on both continents allow for a "cautious increase" in travel.
"Since certain European countries have already made corresponding announcements, Germany also needs a plan for opening up transatlantic air travel," Hohmeister adds.
Last week, Germany relaxed its quarantine requirements for returning passengers from non-high-risk countries, demanding only a negative coronavirus test result in order to re-enter the country.
But the US government still has not lifted its entry ban for non-citizens and non-permanent residents despite numerous appeals in recent weeks from the US travel, hospitality and aviation industries to develop a roadmap for a safe re-opening to foreign visitors.
In addition to the long-haul routes, Lufthansa is increasing its flying to Greece, Italy, Spain and Portugal – popular European destinations for Germans to spend their summer holidays. On some routes, the airline adds, bookings are higher than in the pre-coronavirus year 2019. It is also operating to more destinations than it did two years ago.
"Lufthansa will also expand its flight schedule on short notice if demand continues to increase," the airline adds.