Lufthansa Group expects its capacity to increase to more than 70% of pre-crisis levels next year as it flags strong demand in the key transatlantic market, particularly in premium cabins.
Group capacity climbed to reach roughly half of pre-crisis levels for the three months ending 30 September 2021, a quarter in which the the Star Alliance carrier group returned to profit at an operating level for the first time since Covid hit.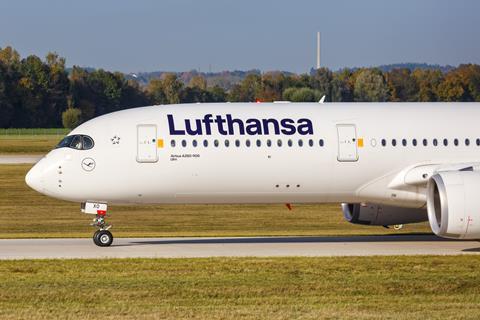 A further ramp-up is projected to take capacity to 60% of 2019 levels in the fourth quarter – taking it to 40% for the year as a whole after capacity was sharply pulled back during the first half.
Speaking during a results briefing today, Lufthansa Group chief executive Carsten Spohr said: "We expect full-year capacity in 2022 to be above 70% and we see 80% of total demand towards the end of the year. We do already see 80% for the North Atlantic for the summer and beyond, but when we say 80% capacity, you are missing China and parts of the world you cannot fly to [because of travel restrictions]. You can see the regional differences.
"Long-haul, as a European airline, we clearly have to differentiate between eastbound and westbound. Westbound, obviously optimism is great; eastbound there are much more questions."
While he notes some initiatives to open up borders in Singapore and Thailand, as well as recent extra frequencies the group secured for Indian flights, major markets such as China remain blocked for international travel.
"On a small scale we see opening trends in Asia, but the big focus for us – and the big business – is the US. Before Covid, we flew to the US as much per day as we did to China per week," Spohr says.
Transatlantic operations have been boosted by the US opening up to fully vaccinated travellers from Europe on 8 November. Spohr notes that its first week of flights following the opening are full. "On some months in the summer we have more bookings than we have [seats] so might even see more capacity on the North Atlantic on some weeks of the year," he says.
At the moment it anticipates services to mainland China opening up nearer the middle than the start of next year. Spohr explains: "The above 70% [capacity forecast] for the full year has flexibility in both directions. If we see China opening up faster than expected, we will ramp up the capacity."
The airline group currently has just under 500 aircraft in service. "[This] is enough for what we are doing right now, but we need more aircraft, because when we get up [capacity], we will be looking to reach the 650 aircraft probably faster than we initially thought.
"We still have some aircraft parked which we can easily reactivate. There are currently 60 aircraft…. with the [Lufthansa] Technik team to have them in shape for the summer – that brings us alone up to something like 560 and we can take it up from there," Spohr adds.
But it is not just the volume of bookings on US routes that is encouraging Spohr. "The higher the booking class, the faster the return on the North Altantic," he says
While Economy and Premium Economy bookings are 24% and 23% below pre-crisis levels on transatlantic routes, he says bookings in Business are only 12% below 2019 levels, while bookings in First Class are running 8% ahead.
"On top of that you see the recovery of corporate travel…. coming from the US will probably increase and probably increase that trend towards the higher booking classes. So I don't only think this wil be maintained for some time, I think it may even be increased," he suggests.
Spohr also flags the changing nature of customers in its cabins from traditional flows. "We see a lot of corporate travel happening in economy class and a lot of leisure travel happening in the premium classes, in places like Switzerland and Russia," he explains.
Asked about potential concerns of an influx of capacity into the markets as restrictions are lifted – and its impact on yields – Spohr believes Lufthansa is taking a disciplined approach.
"That's what you see in our load factors and yields," he says. Average yields for the group's network carriers' segment were slightly above pre-crisis levels in the third quarter.
"Let's hope others do the same and we are a more rational industry than maybe we were in the past. We have all taken a financial shock in this crisis, balance sheets are burdened, so I would think…. overall the industry has a high interest to create value after the losses we have all taken through Covid."