Malaysia Airports Holdings (MAHB) is claiming against AirAsia X MYR78.2 million ($19 million) in unpaid aeronautical charges.
The operator group's wholly owned subsidiary Malaysia Airports (Sepang) has filed a writ of summons and statement of claim in the Kuala Lumpur High court on 22 October, it says in a same-day disclosure to Bursa Malaysia.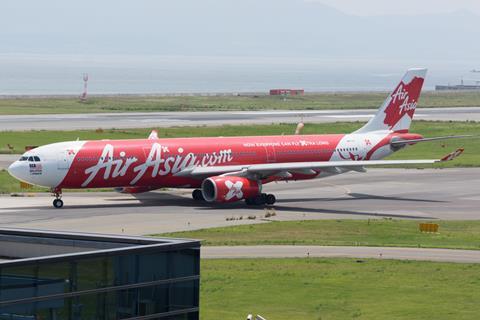 The sum relates to the use of Kuala Lumpur International airport, which Malaysia Airports (Sepang) manages, along with second terminal KLIA2.
MAHB says these charges comprise passenger service charges, passenger service security charges, aerobridge charges, aircraft parking charges, check-in counter charges, landing charges, and late payment charges.
The operator is also looking to temporarily retain AirAsia X's assets that are at its facilities, until the claim amount is settled in full.
"As part of the civil suit, the plaintiff is also seeking an order that the plaintiff's contractual and continual lien over the defendant's user properties under the conditions of use shall only be discharged upon full settlement by the defendant of the full sum owing to the plaintiff."
MAHB states that the term "user properties" is defined in the conditions of use as any aircraft, parts, accessories, vehicles, equipment and/or any other property belonging to and/or under AirAsia X's control or any ground handler appointed by AirAsia X.
The operator adds: "The board of the company is of the opinion that it is necessary for Malaysia Airports (Sepang) Sdn Bhd to pursue the civil suit to best protect its interest."
AirAsia has yet to release a statement and declines to comment on the lawsuit.
AirAsia Group and AirAsia X have had a long-standing disagreement with MAHB and the Malaysian Aviation Commision (MAVCOM), arising from the equalisation of passenger charges for Southeast Asian departures from Kuala Lumpur International's main and KLIA2 terminals, since the start of 2018.
The airline groups argue that KLIA2 is a low-cost facility and should have lower passenger charges than the main terminal, a view which MAVCOM rejects.
MAHB first filed a MYR36.5 million claim against the AirAsia entities in December 2018 for failing to remit the higher charges.
The AirAsia entities sought mediation by MAVCOM, and when it refused, the airlines in May 2019 requested a judicial review of the regulator, arguing it has a statutory duty to do so.
In July 2019, the High Court ruled in favour of MAHB and ordered AirAsia and AirAsia X to pay MAHB about MYR42 million in unpaid passenger service charges and late payment charges. Later that month, the airport operator sought to enforce this by filing a garnishee execution application against the carrier groups.
Months after signalling their intent, the AirAsia companies in October 2019 filed a claim against Malaysia Airports (Sepang) for nearly MYR480 million, in relation to "losses and damage caused by negligence on the part of [Malaysia Airports (Sepang)], its servants and/or agents in the management, operation, maintenance and/or provision of airport services and facilities at KLIA2".
Separately, MAVCOM in January imposed fines on local AirAsia and AirAsia X carriers as well as Malaysia Airports (Sepang) for various infringements.