Myanmar has further extended a ban on all international flights to the end of August.
"In order to continue to [curb] the spread of Covid-19 in Myanmar effectively, the National Central Committee for Prevention, Control, and Treatment of Covid-19 has decided to further extend the effective period of the temporary measures up to 31 August 2020 23:59 MST by the notification issued on 28 July 2020," Yangon International airport operator Yangon Aerodrome Company said in a statement.
It adds that all international commercial flights at Terminal 1 remain suspended until then, while Terminal 3 remains operational for all domestic flights.
Myanmar reported its first cases of Covid-19 on 23 March. On 29 March, it announced a two-week ban of all international commercial flights from 30 March to 13 April to contain the outbreak.
The ban has been continually extended and under the previous advisory, flights had been due to resume on 31 July.
The Southeast Asian nation, which shares land borders with India, Bangladesh, China, Laos and Thailand, has also closed land borders to foreign tourists, while suspending all visa-free privileges and visa issuances.
The ban does not affect relief flights, all-cargo flights, medical evacuation flights and special flights approved by the Mynamar Department of Civil Aviation.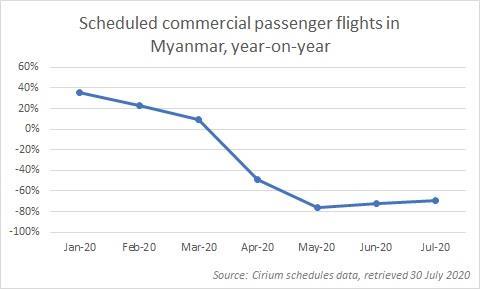 Cirium schedules data show that the number of scheduled passenger flights in Myanmar declined by as much as 76% year-on-year in May.