An improved near-term passenger traffic picture will not translate into a speedier return to 2019 levels of air travel demand, according to fresh forecast data from airports body ACI Europe.
The new forecast – released on the eve of the association's annual congress – suggests the region will still only reach pre-pandemic airport passenger volumes in 2025, amid an "uneven and volatile" recovery.
ACI Europe's new base-case scenario is that passenger traffic at Europe's airports will rise from 60% down on 2019 this year to -32% in 2022. The association's previous base-case scenario, released in April 2021, had a weaker near-term outlook, with demand forecast at -64% and -36% in 2021 and 2022 respectively.
The better outlook for passenger traffic in the remainder of 2021 and into 2022 is "thanks to the re-opening of the transatlantic market to European travellers as well as a progressive easing of travel restrictions on other long-haul markets – in particular in Asia", ACI Europe says.
But the new and previous forecasts converge at -15% in 2023 and -5% in 2024, suggesting the near-term traffic improvement will lose momentum. For 2025, the new base-case scenario has traffic 1% ahead, whereas the previous forecast was parity with 2019.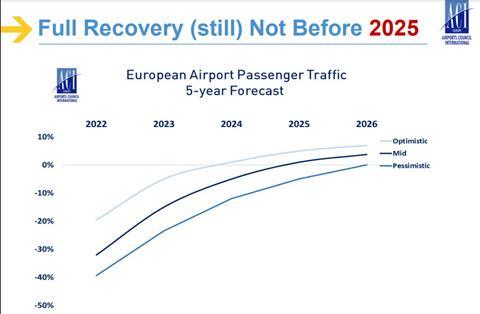 ACI Europe's new "optimistic" scenario, meanwhile, still sees the region achieving 2019 levels of traffic in 2024, while its new "pessimistic" scenario foresees parity with 2019 in 2026. Its previous outlook featured a much more severe "pessimistic" scenario and a less-steep recovery in the "optimistic" scenario.
"Fully restoring unconstrained global travel remains a long way off and looks set to be an uneven and volatile process - conditioned by further progress on vaccination and the evolution of the epidemiological situation," says ACI Europe director general Olivier Jankovec. "The level of pent-up demand is staggering, fuelled by the savings accumulated by consumers through this pandemic. But there are also significant supply pressures that will slow down the pace of the recovery.
"These include structurally downsized airlines with significant reductions in their aircraft fleet and workforce, rising fuel costs and inflationary pressures, the lasting impact of airport slot waivers and the fact that capacity disciplined airlines will be exercising pricing power."
Another European body, air traffic manager Eurocontrol, said earlier in October that the recovery in flight numbers was now forecast to be significantly ahead of a forecast it released in May 2021.
That improved outlook came amid a strong-than-expected recovery in flights during the summer season.
Eurocontrol's base-case scenario is now that European flight numbers will reach 2019 levels in 2023, rather than its previous forecast of 2024 or, more likely, 2025.