European Union regulators have signed an air transport services agreement with Qatar which includes capacity caps in some key markets before full access is implemented in 2024.
Specifically, the wide-ranging agreement initially limits the number of flights that carriers from either side can operate from five European markets – Belgium, Germany, France, Italy and the Netherlands – before a "gradual build-up" in capacity to 2024.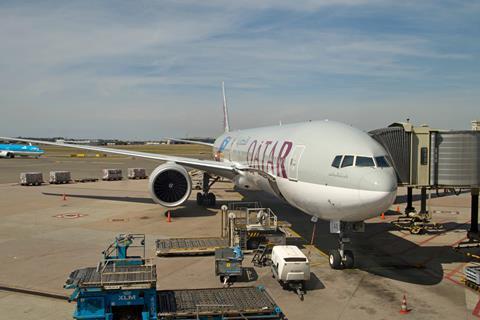 The agreement also includes commitments from both sides to "fair competition" and covers "social and environmental protection".
European transport commissioner Adina Valean says: "This agreement, the first one between the EU and the Gulf region, is a global benchmark for forward-looking aviation agreements.
"This agreement will bring new opportunities, more choice and higher standards for passengers, industry and aviation workers."
The Commission secured a mandate to negotiate an EU-wide air services deal – which will replace existing bilateral agreements – with Qatar in 2016. The negotiations were set against the backdrop of "level playing field" concerns previously voiced by some EU carriers and the rapid growth of Qatar Airways. That has seen Qatar grow to become the 15th largest aviation market with the EU, in which 6.3 million passengers travelled in 2019.
"Ensuring open and fair competition for air services between both is therefore crucial, also for routes between the EU and Asia," the Commission says. Qatar Airways has successfully developed Doha as a transit hub for passengers travelling between Europe and Asia.
Agreement on the new air services deal was first reached in 2019 but signing of the deal was held up by a dispute over Gibraltar between Spain and the UK – which has now left the European Union. Its implementation comes with carriers still rebuilding networks and frequencies following the global pandemic.
Specifically the agreement caps the number of flights in Belgium, France, Germany and Italy that carriers from either side can operate from the start of the winter season at the end of this month.
Caps on flights between EU countries and Qatar from winter 2021 season
Belgium-Qatar: 24 weekly passenger flights; 42 weekly cargo flights
France-Qatar: 27 weekly passenger flights between Qatar and Paris; 14 weekly passenger flights respectively between Nice/Lyon/all other points in France and Qatar; 14 weekly cargo flights
Germany-Qatar: 21 weekly passenger flights between Frankfurt/Munich and Qatar; 14 weekly passenger flights between all other points in Germany and Qatar; 14 weekly cargo flights between Germany and Qatar
Italy-Qatar: 84 weekly passenger flights; 21 weekly cargo flights
Netherlands-Qatar: 14 weekly passenger flights between Amsterdam and Qatar; 14 weekly passenger flights between all other points in the Netherlands and Qatar; 14 weekly cargo flights.
The agreement also blocks any fifth-freedom rights for passenger flights to Qatar operators, though permits carriers from both sides to operate fifth-freedom cargo flights.
A Commission spokesperson says the caps on the numbers of flights will be adjusted annually at the start of each winter season. The last restrictions on direct traffic will be removed on the first day of the IATA winter season 2024/25.
"While direct flights between most EU member states and Qatar have already been liberalised by those bilateral agreements, none of them include provisions on fair competition, or social and environmental issues, which the Commission considers essential for a modern aviation agreement," the Commission says.
"The agreement contains strong safeguards in this respect, and provisions on fair competition. Strong enforcement mechanisms and obligations ensure financial transparency to avoid distortions of competition and abuses. Subsidisation and support for airlines is only possible in certain cases, and strict criteria apply. Detailed and agile dispute settlement procedures are also foreseen in case of disagreement between the parties."
The Commission adds that further air transport agreements with Armenia and Tunisia are expected to be signed in the coming weeks.