Regional start-up carrier Bermudair launched its first flights from Bermuda to the East Coast of the USA on 1 September after being delayed by supply chain issues and then Hurricane Franklin.
After receiving a water-cannon salute from Bermuda Fire and Rescue Service, the carrier's maiden flight took off from Bermuda's LF Wade International airport 08:13 local time and touched down at Boston Logan International about two hours later, according to flight-tracking website FlightAware.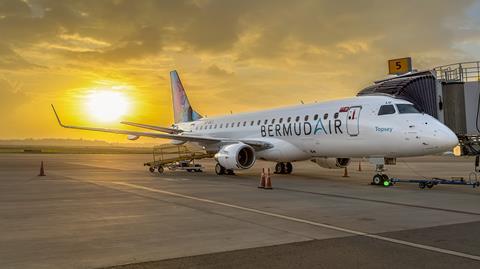 The carrier also completed a return flight to Bermuda, touching down shortly after 13:00 local time, and plans to operate flights to and from Westchester County airport near New York City later the same day.
For the inaugural flights, Bermudair used one of its two Embraer 175s – both formerly operated by failed UK regional carrier Flybe. Carrying the registration VQ-BLW, the E175 was delivered new from Embraer in 2012 and is now owned by US lessor Azorra Aviation. It has logged 12,500 cycles and 14,100 hours, according to Cirium fleets data.
Originally scheduled to launch on 24 August, Bermudair pushed back its service start due to supply chain issues that changed the company's plans to configure its cabins in a 30-seat, 1-and-1 configuration.
Now, the cabin configuration change is expected to be complete by 1 November. Until then, the carrier is selling just 44 of 88 available seats on each flight to give customers more space.
The new "business-class short-haul airline" then planned to launch on 31 August but cancelled its first day of flights "in the wake of weather conditions associated with Hurricane Franklin", according to Skyport, the management company overseeing LF Wade International.
Bermudair's flights to Boston and New York will initially be operated once daily, six days weekly, with plans to step up frequencies to twice daily, six days weekly on 15 September.
The regional carrier also plans to launch flights from Bermuda to Florida's Fort Lauderdale-Hollywood International airport on 22 September.