A new discount charter carrier called Red Way plans to launch flights on 8 June from Lincoln, Nebraska to seven US cities.
The airline's fleet will include multi-class Airbus A320s and A321s operated by Miami-based charter carrier Global Crossing Airlines (GlobalX), Red Way said on 30 March.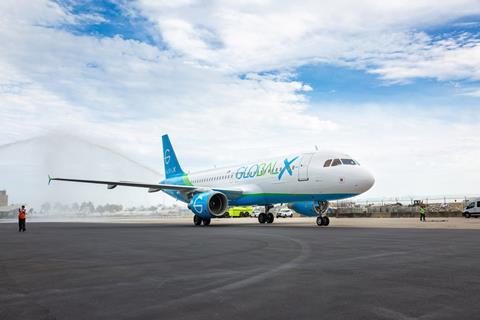 "Red Way and GlobalX Air Tours will be adhering to a cost-efficient structure to offer affordable fares, flexibility and choice," the airline says. "Customers can choose their own experience with basic economy or premium options that include perks such as spacious legroom and additional baggage."
"Amenities such as food and beverage will also be available on the aircraft for purchase," the fledgling carrier adds.
Red Way did not immediately specify how many narrowbody jets GlobalX will operate on its behalf. Flights will be public charters, with initial destinations including Orlando, Las Vegas, Dallas Fort Worth, Nashville, Austin, Atlanta and Minneapolis.
"Through this model, known as Part 380 operations, we can offer seasonal flexibility and keep the operations simple," Red Way tells FlightGlobal. "We have a strong community focus and look forward to making an economic impact in Lincoln and the surrounding areas."
During a ceremony in Lincoln, David Haring, executive director of the Lincoln Airport Authority, said the expanded air service "is not just a new chapter for our airport and our community, but is actually a tremendous opportunity for our state".
In 2014, Delta Air Lines began offering flights between Lincoln and Atlanta. More recently, United Airlines has been operating to Houston, Haring says.
"Those successes have been few and far between," Haring says. "There is also a nationwide capacity shortage disproportionately impacting airports the size of Lincoln." Delta stopped flying to Lincoln in early 2022 amid a broader pullback from smaller markets.
However, "the size and continued growth of Lincoln is impressive and supportive of a robust air service network", says Ed Wegel, GlobalX's chief executive.
Red Way will begin flying on 8 June and continue adding destinations through 24 June.