US start-up carrier Northern Pacific Airways has stopped selling tickets on its only route after the end of this month, leading to questions about the young carrier's future.
The Anchorage-based airline operates one Boeing 757 and one scheduled route – between Los Angeles-area Ontario International airport and Las Vegas, thrice weekly. It launched that route last month.
However, the company's website is no longer accepting reservations for flights after 31 August. The website does say the airline offers charter flights.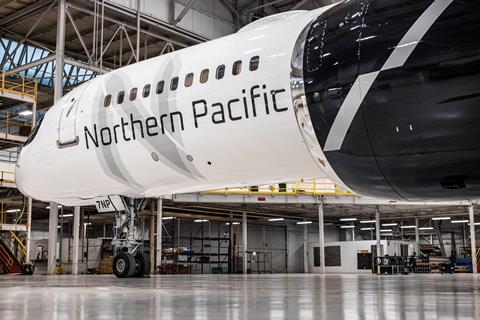 Its cessation of ticket sales was first reported by aviation blog One Mile at a Time.
Asked to comment, the airline on 23 August says it is "finalising [its] fall schedule" and will publish an update "within 48hrs".
The start-up carrier had previously aimed to begin commercial flights earlier this year but suffered delays due to incomplete regulatory approvals. The Federal Aviation Administration issued Northern Pacific an air carrier certificate in early July, clearing the way for it to begin passenger flights.
Its initial scheduled flights were between Ontario, about 50nm (93km) northeast of Los Angeles' primary airport, Los Angeles International, and Las Vegas. The schedule appeared to cater to customers from the Los Angeles metropolitan area looking to spend a weekend in Las Vegas. The distance between the two airports is listed as 197nm. By car that one-way journey can take 4-5h.
The route was to be a precursor to a trans-Pacific schedule that aimed at bringing passengers from North America to Asia with stopovers in Anchorage, Alaska.
Chief executive Rob McKinney's plans for the fledgling airline included replicating across the Pacific Ocean what Reykjavik-headquartered Icelandair does across the Atlantic. For years, the Icelandic carrier used its island base about midway between North America and Europe to offer low-fare flights between the continents, with the option for stopovers. Northern Pacific has said it intends to fly from Anchorage to South Korea and Japan.
McKinney told FlightGlobal in July that he still hopes to begin those flights next year, and the company has applied for permission to operate through Anchorage to "several countries". In addition to South Korea and Japan, McKinney mentioned possible flights to Canada and Mexico.
He added that the airline wants to launch charter and ACMI (aircraft, crew, maintenance and insurance) operations "as early as August". Northern Pacific is advertising that service on its website, at a rate of $14,000 per flight hour.
The carrier's website is also still advertising for positions in Anchorage and direct-entry captain jobs in Newark, Orlando, Las Vegas, Ontario, Oakland and Anchorage.