Norway's competition regulator has made a case for longer runways at some of the country's smaller airports with the aim of increasing interest in public service obligation route tenders in future.
It outlined the argument in a wide-ranging submission to the transport ministry's consultation on its national aviation strategy, in which it also warned against providing more state support for established carriers in future to ensure new operators can establish themselves.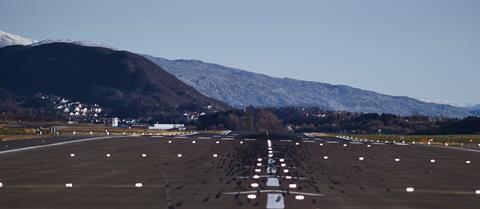 The Norwegian Competition Authority argues that if the decline in passenger levels continues beyond the pandemic, the probability will increase that more Norwegian air routes will become monopoly routes.
But it notes air routes with only one operator that are not commercially profitable can be designated PSO routes and subsidised by the state. It notes that all such routes, with the exception of Oslo-Rores, are currently operated by one operator – Wideroe.
"The Norwegian Competition Authority believes that a review of the airport structure should be made and steps taken to get more companies involved in the tender competitions for these routes," it says, specifically arguing extending runways to enable more types of aircraft to be deployed would enable more companies to participate in such tenders.
Norway has provided state support to Norwegian operators during the pandemic, but senior advisor at the competition authority, Elisabeth Steckmest, says such support should not be at the expense of new start-up operators.
"The Norwegian Competition Authority therefore believes that it is crucial that new companies that establish themselves in the aviation market are given the opportunity to compete on equal terms with the established companies. This means that the authorities must be careful about providing financial support to the established players also in future crises," she says.