Norwegian plans to focus on core connections that have "historical profitability" as it transitions to becoming a conventional low-cost short-haul operator.
As part of an investor presentation published on 27 January, the Scandinavian carrier indicates an intent to consolidate its position in its "Nordic strongholds", with these accounting for around 15-20% of capacity by available seat-kilometres, while the rest relates to other European markets.
The airline's previous business model included an extensive long-haul network.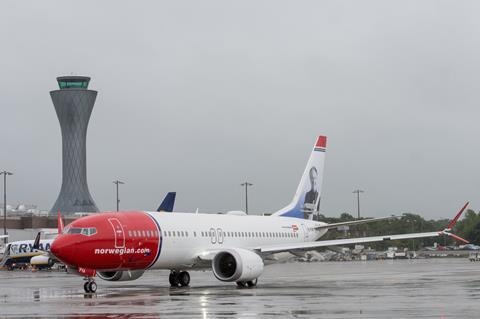 As part of its transformation, Norwegian will scale down its fleet such that it "retains sufficient market presence and scale economies in core markets". Boeing 737s will make up the fleet.
Norwegian has been in "hibernation mode" and currently operates only seven to nine aircraft, but it says its pared-back network has high load factors and is generating cash. By summer 2021 it hopes to increase its activity to 50 operational aircraft plus three spares, rising to 68 aircraft plus two spares in 2022.
The group has 18 Boeing 737 Max jets in storage, Cirium fleets data shows. The investment document states that Norwegian's Max jets will be "reclarified" as part of the restructuring.
It plans a streamlining of its operations which involves a simpler crew base structure, an in-house employment model and the holding of fewer air operator certificates to facilitate crew interoperability. It is also undergoing a process of rightsizing its crew needs and furloughing staff where possible.
Despite the carrier's poor financial performance in recent years, it asserts that it has established itself as the leading low-cost airline in its core markets of Norway, Denmark, Sweden and Finland, with a strong brand and successful customer loyalty programme.
Norwegian is currently undergoing an examinership process in Ireland and a similar form of bankruptcy protection in Norway, and aims to exit the procedures during April. As part of this it plans to dramatically cut its debt, including through converting debt to equity, reducing current shareholders to just 5% of its ownership.
It is seeking new equity investments of NKr4-5 billion ($467-581 billion), giving them a 70% stake in the business.
Norway's government has previously signalled that it is prepared to offer conditional financial support to the carrier to assist with restructuring, while stating its opposition to taking an ownership stake.