American Airlines has increasing confidence in Boeing's ability to deliver 787s as planned, prompting the airline to finally move forward with plans to launch new routes to Europe in 2024.
Starting next May and June, the Fort Worth-based airline plans to begin flying 787s daily from its Philadelphia hub to Copenhagen, Naples and Nice – all new routes for the airline, American said on 17 August.
The carrier also plans in June 2024 to launch a new daily flight, using 777-200s, from its hub at Dallas Fort Worth International airport to Barcelona, and to resume daily flights, using 787s, between Chicago O'Hare International and Venice.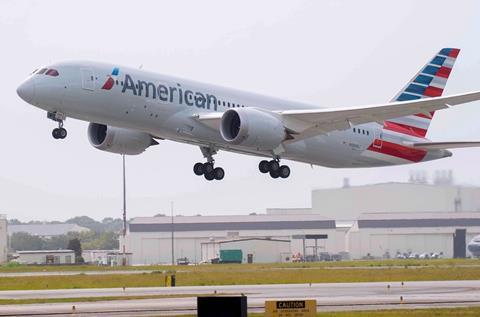 American stopped its Chicago-Venice flight in 2020, according to Cirium data.
Brian Znotins, American's senior vice-president of network planning, says his team wanted to launch those routes earlier but did not partly due to "Boeing delays and uncertainty around deliveries".
Boeing has for several years been working to address manufacturing quality problems that forced it to halt deliveries of the widebody jets. One such 787 delivery pause lasted most of two years, ending in August 2022, and issues have continued since. American received one new 787 in 2021, nine in 2022 and four so far this year, Cirium data shows.
"We really wanted to add new destinations last summer, but we thought there was a lot of risk to that," Znotins says in a video posted by American. "If Boeing further delayed airplanes and we had announced Philly-to-Naples service, and we had to pull that flight down, it's really hard to get those passenger to Naples."
With that risk in mind, American last year took a "lower-risk approach" that involved adding more flights on routes it already served, such as those to Athens, Paris and Rome.
"O'Hare-Venice is a route that we really liked back in 2019, we just didn't have the opportunity to fly it, with Boeing delays," Znotins adds.
American now thinks it will have the aircraft needed to launch the expansion next year. "We are ready to rock and roll," Znotins says.
The 2024 expansion will bring to 11 the number of European countries to which American flies. Additionally, the airline says it will begin flying some of its seasonal European routes earlier in 2024, and convert to year-round flights some European routes it has been flying seasonally, including those to Madrid, Dublin, Rome and Lisbon.
The moves reflect American's desire to find "year-round homes for airplanes", Znotins says. "We are taking airplanes that are flying [Dallas-Fort Worth]-Auckland in the winter – we call that a counter-cyclical opportunity – and then we use that airplane to fly O'Hare-Venice or Philly-to-Naples in the summer months."
American chose to launch much of next year's European expansion from its Philadelphia hub because the airline can operate many more connecting flights there than it can, for instance, at New York's John F Kennedy International, Znotins adds.
American at Philadelphia can "bring in 40 flights domestically all at the same time" – flights timed to enable passengers to transfer on to American's transatlantic flights.
"We can get so many people [into Philadelphia] from across the US efficiently," Znotins says. "In JFK, we have gate limitations and slot limitations" and can "only bring about eight or nine [connecting] flights in to JFK."
American's sales potential in New York has also been diminished after earlier a federal judge ordered it and JetBlue Airways to end a marketing and sales partnership applying to flights out of New York and Boston.