Chinese carriers reported an uptick in domestic passengers during this year's Lunar New Year holidays, but demand is still far below that recorded before the coronavirus pandemic.
Preliminary statistics from the Civil Aviation Administration of China (CAAC) state that Chinese airlines carried around 5 million domestic passengers during the week-long holiday, which fell between 31 January and 6 February.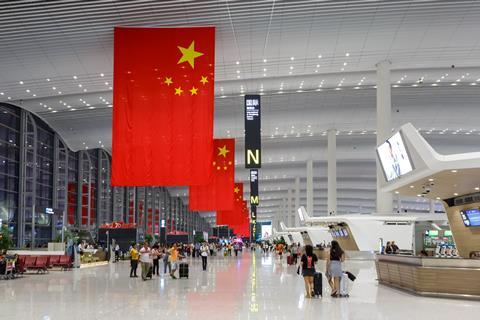 Compared against 2021's Lunar New Year period, the figures represents a 40% rise in passenger numbers.
However, the figure is below 2020's more than 6 million domestic passengers, and less than half of pre-pandemic 2019's 12.8 million domestic passengers.
Domestic passenger load factors remained weak, at around 58%, representing a marginal 0.75 percentage point increase from 2021.
China — among the few countries to retain a 'zero-Covid' strategy — has recently seen a spike in infections caused by the more contagious Omicron variant. Parts of the country have come under onerous restrictions to curb rising case numbers.
CAAC data shows the top five airports by passenger traffic were all in southern and southwestern China: Chongqing, Guangzhou, Shenzhen, Chengdu and Kunming.
While capital city Beijing — host of the ongoing Winter Olympics — and Shanghai were not among the top five airports during the holiday period, the CAAC notes there is still "strong demand" from these cities.
The agency also remains optimistic: "Overall, although the number of passenger trips during the [Lunar New Year] holiday this year has not reached the level before the epidemic, it has increased significantly compared with 2021."