Paris airports operator Groupe ADP expects passenger numbers across its network to be between 70% and 80% of 2019 levels this year and to recover to pre-crisis highs between 2023 and 2024.
The operator handled 160 million passengers across its airports in 2021, around 45% of pre-pandemic levels.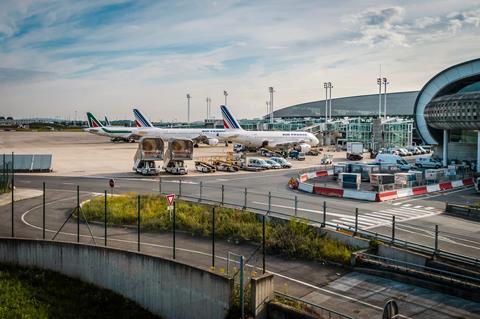 Just over a quarter of these passengers, 41.9 million, came through its two Paris airports, Charles de Gaulle and Orly. That represents 39% of 2019 passenger levels.
ADP's overall traffic performance was aided by a stronger performance across its interests in Indian and Turkish airports – all of which returned to at least half pre-crisis levels last year.
2021 passenger levels across biggest Groupe ADP airport interests
Airports
Country
2021 passengers (m)
Change v 2020
Level v 2019
Notes: ADP airports with over 4m passengers in 2021, including those held by TAV and GMR in which ADP is an investor
Paris (Charles de Gualle/Orly)
France
41.9
27%
39%
New Delhi
India
37.1
30%
54%
Antalya
Turkey
22.0
127%
62%
Hyderabad
India
12.0
26%
54%
Santiago
Chile
10.0
17%
41%
Izmir
Turkey
7.7
40%
62%
Ankara
Turkey
7.0
36%
51%
Amman
Jordan
4.6
122%
51%
Almaty
Kazakhstan
4.4
87%
93%
Total
160.0
37%
46%
ADP chief executive Augustin de Romanet says: "The recovery in activity over the second half of the year has enabled the group to stabilise its cash position between mid-July and December 2021.
"For 2022, traffic group is expected between 70% and 80% of the 2019 level, and Paris airport traffic between 65% and 75% of the 2019 level. The EBITDA margin should be between 30% and 35% and net income should be positive for the year 2022."
The group posted an operating loss of €248 million ($282 million) in 2021 – a marked improvement on losses of nearly €1.2 billion in 2020.
ADP sees group traffic recovering to pre-pandemic levels between 2023-24, though it is still projecting a later recovery timeframe for its Paris airports. "The level of traffic reached in 2019 should be recovered between 2024 and 2026 and exceeded from 2026 onwards," it says.
Comprising almost three-quarters of its passenger levels in 2021, de Romanet flags the continued development of its international activities.
"In particular the acquisition of Almaty airport, which contributes significantly to improve the group's EBITDA in 2021 and the gain of the Antalya concession for a further 25 years. Several international assets have been subjects of extensions of concession periods and debt restructurings," he says
Discussions though are ongoing regarding Amman, Madagascar and Santiago airports which could impact ADP's long-term involvement in them.
"ADP may be required to provide financial support to these airport management companies in which it is a shareholder," it says. "To date, this support is estimated at a maximum of €70 million in the context of restructuring discussions between now and the end of 2022.
"If negotiations to rebalance some of its international concessions fail, the group may have to make arbitration decisions, eventually withdrawing from the project."
Alongside the traffic recovery hopes, ADP is launching a new retail and hospitality initiative, Extime, to underpin its commercial growth as part of wide-ranging strategy under which it envisages returning to its pre-crisis financial performance by 2025.