Dubai International's passenger numbers collapsed in 2020, but the airport operator is reporting "positive strides" in the second half of the year.
Of the 25.9 million passengers passing through the airport last year, 17.8 million did so in the first quarter, much of which was unaffected by the Covid-19 crisis.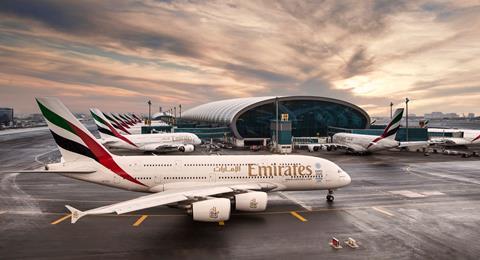 Traffic picked up in the second half of the year against the April-June period, and Dubai Airports notes a "recovery in many areas, especially the return to services in global markets thanks to the strength in operations of Emirates and Flydubai, and the confidence shown by international airlines coming back into the region."
For parts of the year Dubai was closed to foreign travellers altogether, including transiting passengers. The United Arab Emirates reopened to tourism from 7 July.
The airport operator asserts that the 2.19 million customers processed in December exceeded industry expectations.
"In the past year we have witnessed the most difficult circumstances the travel industry has ever faced," states Dubai Airports chief executive Paul Griffiths. "The impact of the Covid-19 pandemic has been felt not only in our sector, but across the entire world. These DXB [Dubai International] passenger traffic figures are reflective of that testing environment, but also come with an element of hope and confidence."
He adds: "Looking forward, we are confident of a steady, but optimistic outlook."
Dubai Airports is advocating a global rollout of Covid-19 vaccinations and the introduction of contactless travel as ways to improve passenger confidence and encourage customers back to the skies.
"From a markets and destination perspective, the recovery is strong," argues the operator. Dubai International now serves 142 destinations, 61% of its pre-pandemic reach. Fifty-six airlines are currently flying to and from the airport, which is three-quarters of the pre-Covid figure.
India was the top destination by passenger numbers, followed by the UK and Pakistan.
Total air freight handled at the airport declined by a relatively moderate 23% in 2020, to 1.9 million tonnes.