Demand for air travel continued its recovery in March this year, according to IATA, despite the war in Ukraine and China's restrictive Covid-19 policies.
Reporting its latest global traffic data on 4 May, the airline association noted that with travel restrictions softened or removed in many regions, "we are seeing the long-expected surge in pent-up demand finally being realised".
The impact of the war in Ukraine was "quite limited overall" when it came to travel demand in March, IATA adds, while the impact of the Omicron variant of Covid-19 was confined to Asian domestic markets – most notably China's.
IATA director general Willie Walsh cautions, however, that "we are also seeing long delays at many airports with insufficient resources to handle the growing numbers".
He calls on that issue to be urgently addressed, "to avoid frustrating consumer enthusiasm for air travel".
Total global demand measured in revenue passenger kilometres (RPKs) during March was down 41.3% compared with the same month in 2019, IATA says – an improvement from the 45.5% decline recorded in February.
Within this year's number, the domestic recovery continues to outpace that of international markets, IATA states, despite the recent Covid-related setbacks in the huge Chinese domestic market. Global domestic RPKs were 23.2% down versus pre-Covid levels in March, while international traffic was some 51.9% lower.
In capacity terms, global available seat kilometres (ASKs) were down 35.5% versus 2019 levels in March, with international capacity down 45.2% and domestic ASKs some 18.4% lower.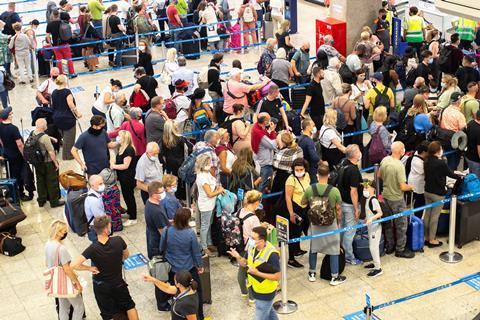 The improving picture in global passenger markets contrasts with that seen in the air cargo sector, where March saw demand fall for the first time in more than a year.
While IATA continues to provide commentary and data comparing this year's passenger traffic performance with pre-Covid outcomes on an industry-wide basis, it no longer does so on a regional level.