Eurocontrol does not expect flight numbers in European airspace to recover to 2019 levels until 2026, according to its latest projection.
Outlining its expectations for the coming five years in a 1 January paper, the air traffic management organisation says the region's flight numbers are "on course" to track the middle of its three recovery scenarios, where vaccines are widely available, or the pandemic ends for any reason, by summer 2022.
This recovery path "factors in likely progressive vaccine deployment across Europe" during 2021, but not "full coverage" or the "disappearance" of Covid-19 in the next 12 months.
Such an outcome would mean 5.64 million flight movements that touch the 44 European Civil Aviation Conference states in 2021, Eurocontrol predicts, which would equate to 51% of 2019 levels. Last year saw traffic at 44% of 2019 levels, it notes. During 2019, around 85% of flights tracked by Eurocontrol were commercial passenger operations, with rest accounted for by all-cargo, business aviation and non-scheduled services.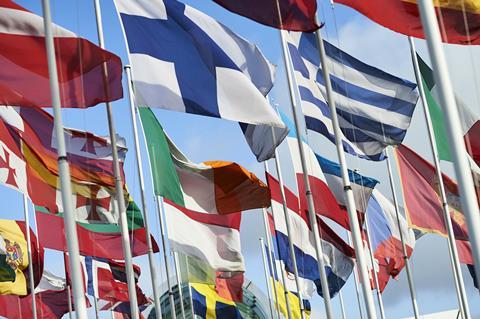 Under the expected recovery scenario, the availability of vaccines makes a negligible difference to flight numbers in 2021 versus the worst-case scenario of no vaccines being rolled out – movements reaching 51% of 2019 levels versus 50% respectively – with a significant divergence only emerging in 2022, when numbers would be 72% and 58%.
Traffic would only return to 92% of 2019 levels by 2024, with figures recovering fully in 2026.
It describes the worst-case scenario – which would only see a recovery to 2019 flight levels in 2029 – as "least likely".
Under the best-case scenario, vaccines would be widely available by summer 2021, with full-year flight numbers reaching 73% of 2019 levels and full recovery achieved in 2024. Eurocontrol considers this outlook "less realistic" due to current assumptions about the time needed for the rollout of vaccines.
Under all scenarios, the number of flights in European airspace is predicted to be 50-60% down on 2019 levels during the first few months of 2021, Eurocontrol states.