German competition regulators have preliminarily backed leisure carrier Condor in its claim that it should have access to Lufthansa feeder flights for its long-haul operations after the latter terminated a partnership agreement.
Under a long-standing pact, Condor has been able to book feeder flights operated by Lufthansa carriers to feed its own long-haul services. But the Star Alliance carrier in December 2020 said it was to terminate the feeder arrangement, saying it would be "irresponsible to neglect capacity utilisation of our own aircraft" while it was cutting jobs at the company because of the pandemic.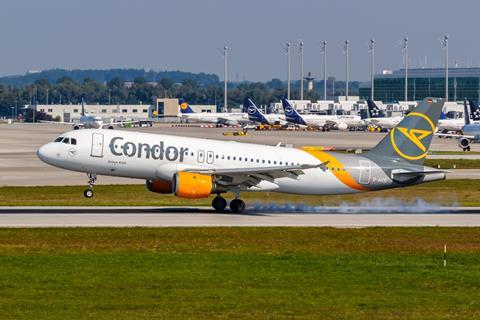 Lufthansa subsequently suspended that decision, which originally was to take effect from June 2021, after Condor filed a complaint with the Bundeskartellamt. That suspension runs until May 2022.
In its initial ruling, published on 8 February, the regulator judges that Condor – in the absence of its own feeder network – requires access to the Lufthansa's flights in order to ensure sufficient levels of competition on the "already strongly concentrated indirect long-haul markets" because Lufthansa has a dominint position in the feeder flight market in Germany.
Bundeskartellamt president Andreas Mundt says: "No other carrier operates more than just a few individual feeder flights to the major German hubs Frankfurt, Munich and Dusseldorf. Lufthansa is therefore subject to abuse control under competition law and has to comply with special obligations.
"We have concerns regarding the admissibility of the termination of its co-operation with Condor insofar as this could lead to an unfair impediment to competition on the downstream markets for long-haul flights."
The regulator notes that no suitable slots are currently available at hubs like Frankfurt to enable Condor to develop its own feeder network. The regulator adds that if Condor lost customers wanting to connect through a feeder flight, this would have "severe economic consequences both for the company and for competition".
The Bundeskartellamt's preliminary assessment also judged the agreements contain further illegal impediments to competition, such as "limited access to booking classes, discriminatory access to seat capacities on feeder flights and limited pricing options for Condor".
Lufthansa and Condor can now comment on the preliminary ruling.