Rex will launch jet operations between Melbourne and Brisbane in mid-December, as it discloses "well-advanced" plans to expand operations in Queensland state.
The carrier states that twice-daily flights will commence 17 December, making Brisbane the fifth state capital in its mainline domestic network, after Sydney, Melbourne, Adelaide and Canberra.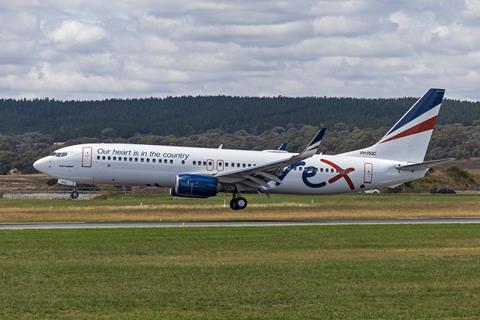 The move will bring the carrier closer to its "long-stated goal" of servicing Australia's 'Golden Triangle' — flights linking Sydney, Brisbane and Melbourne.
Rex also announced that it would be basing one Boeing 737-800 in Brisbane, a move it says will "underpin the airline's Queensland expansion".
The carrier says it is looking to fly to major Queensland regional centres and tourist destinations, though it did not state which cities these would be.
"We have no intention of stopping our growth as we're determined to make up for time lost due to the pandemic and push ahead with plans to expand our network, particularly in Queensland," says Rex deputy chairman John Sharp.
The carrier launched jet operations in March, and grew its 737 fleet to six examples. However, domestic lockdowns, from a wave of coronavirus infections caused by the more infectious Delta variant, forced the airline to suspend mainline domestic operations for several months.
The carrier resumed 737 flights from Melbourne to Sydney, as well as to Canberra, on 15 November, and reinstated operations on a number of regional routes out of Sydney.