Eurocontrol director general Eamonn Brennan has flagged congestion and competitive distortion issues that the long-term closure of Russian airspace creates, in addition to the routes directly impacted by the ongoing restrictions.
Most European airlines have pulled their flights to Russia since its invasion of Ukraine earlier this year, while those with networks heavily reliant on overflying Russian airspace have had to pivot operations elsewhere.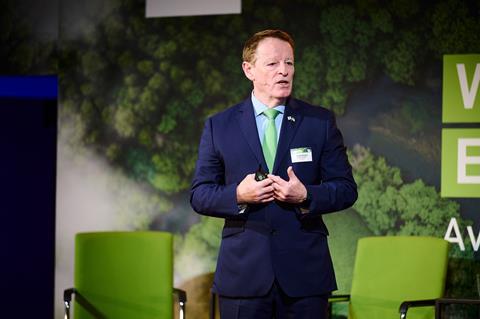 While Finnair, which had built much of its network strategy on serving as a connecting point between Europe and Asia-Pacific, is the most obvious example, the airspace restrictions continue to impact wider European airline long-haul networks. Virgin Atlantic cited "operational complexities" stemming from the airspace closure in its decision not to restore its London-Hong Kong service.
Speaking at Eurocontrol's Where to Next For European Aviation conference in Brussels on 4 October, Brennan highlighted fight data for the key June-September period which showed a strong recovery in activity despite the restrictions.
"We got to 87% of 2019 [flights] over the summer and what's depressing [these figures] is obviously the long-haul," says Brennan.
Notably Europe-Asia-Pacific is lagging, which also relects continued strict Covid restrictions in China alongside the airspace issue. Eurocontrol data for the week ending 2 October shows flight activity in this segment still 29% below the same week in 2019. By contrast, transatlantic flight activity is within 4% of pre-pandemic levels.
Brennan notes that the closure of the Russian airspace means "everybody is moving south", which in turn creates additional congestion in the rest of European airspace.
"In Europe we are operating 90% of our 2019 schedule with 80% of our airspace, so it's like the bucket has got smaller and the water has got a bit bigger. What should be going up…over Russia, is going down…over Turkey, and this is causing congestion at the peak time of the year," he says.
With little sign of an end to the Ukrainian conflict, the traffic returning to a market beset this summer by operational challenges – some of which are spiraling into the winter – presents a further congestion issue.
Brennan also flags a competitive distortion resulting from the continued ability of Chinese carriers to overfly Russian airspace, which he expects to become more significant next year as traffic flows increase.
"Right now Lufthansa or Air France-KLM can't do that and they have to go south, and that is going to be a contentious issue," he predicts.
"At the moment it is below the radar. But when you add passengers and China opens up, hopefully by the first quarter of next year, maybe we will see this stream [of Chinese flights] become very intense.
"And then you will see the carriers that are competing with Chinese carriers, particularly long-haul, shouting about this. At the moment Chinese carriers have a huge advantage over the European [airlines]."