RwandAir is switching its Kigali-London service from Gatwick to Heathrow airport.
The African carrier has been serving Heathrow on a cargo-only basis during the coronavirus crisis, and says today that its passenger services to the UK capital will also serve the hub when they resume on 3 October.
RwandAir cites Heathrow's strong feeder traffic when explaining the move.
"We have been operating cargo and repatriation flights from London Heathrow during the pandemic and we are now delighted to operate scheduled passenger flights for the first time into and out of one of Europe's premier airports," says RwandAir chief executive Yvonne Makolo.
"The move will significantly benefit customers flying into Heathrow from other UK cities who then wish to fly on seamlessly to Rwanda and other parts of Africa."
The Heathrow route will be served by an Airbus A330 on a twice-weekly basis initially, rising to thrice-weekly on 25 October.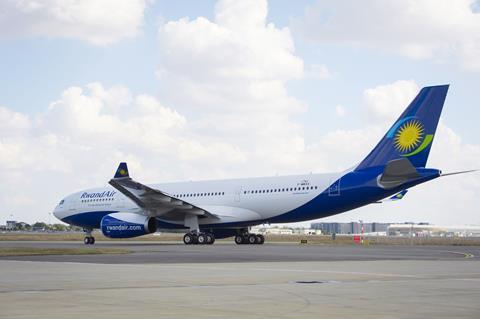 RwandAir had been serving Gatwick airport since mid-2017.
The carrier will also resume Kigali-Brussels services on 3 October.
RwandAir restarted scheduled services on 1 August following a months-long grounding.
It is in the process of finalising a deal that will see Qatar Airways take a 49% shareholding in the carrier.
A full interview with RwandAir chief executive Yvonne Makolo is published on FlightGlobal Premium and in Airline Business magazine