Ryanair chief executive Eddie Wilson remains optimistic of a strong lift in air travel in Europe this summer and expects consumers will extend holiday plans later into the year
Wilson, speaking at the World Aviation Festival today, said the low-cost carrier has loaded capacity into markets it suspects will be open for travel this summer.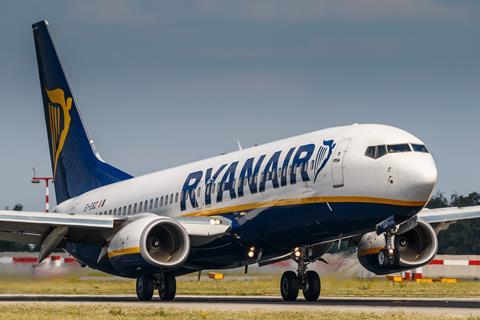 "It's moving day by day, and we can just load it as best we can and have the aircraft and people ready to go with it," he says. "I would say we've got about 75% of what we would have had in summer [2019] loaded in there, but we are going to be moving the stuff around until the last minute until people know if they can travel."
A slower-than-hoped vaccination rollout across mainland Europe, and government efforts to limit the spread of coronavirus variants, means widespread travel restrictions remain in place.
However, Wilson believes vaccine progress will ease the health crisis in Europe, increasing pressure to open air markets in May and June, especially considering cross-border travel by road will be possible.
"I think we are going to reach a point in Europe where everybody is at a level of vaccinations where [travel] is just going to happen," he says. "The difficultly at the moment is [that] people are responding to the news cycle and you can get two different opposing positions on the same day."
He anticipates this year's mid-year travel season will extend longer than is typical. "My own view is we are going to have an extended summer here."
Wilson says Ryanair can respond quickly to rapidly increasing demand because it ensured sufficient pilots and flight attendants remained current on training and licensing during the crisis. "Everybody is in that machine at the moment. We don't have to call people back in off furlough who haven't done anything for 12 months, and we have maintained the aircraft," he says.
The summer will also see the delayed debut of Ryanair's first Boeing 737 Max flights. The airline was to take its first Max aircraft prior to the Max grounding two years ago. Now, following Europe's re-certification of the Max, and recent certification of the higher-density Max 8-200, the carrier is poised to receive its first Max 8-200. Ryanair is the type's launch customer.
"We are hopeful [first delivery] will be in the next number of weeks, probably in the next two weeks," Wilson says. "Any aircraft that comes into us, goes into service pretty much the next day."
Wilson says Ryanair must next chose the routes its Max will operate. "We will probably have them where we will have the engineering support in place – so Stansted, Bergamo somewhere like that," he says. "We will be flying the 8-200 this summer."