Low-cost carrier Ryanair has reduced its planned capacity for September and October by 20% as demand for intra-European travel weakens amid government-imposed restrictions.
Citing the impact of "continuing uncertainty over recent Covid case rates in some EU countries", the pan-European airline says the cuts will be achieved through frequency reductions, rather than route closures.
"These capacity cuts and frequency reductions for the months of September and October are necessary given the recent weakness in forward bookings due to Covid restrictions in a number of EU countries," Ryanair states.
It highlights restrictions imposed by a number of European countries in the past two weeks, which mean bookings – "especially for business travel into September and October" – have been negatively affected.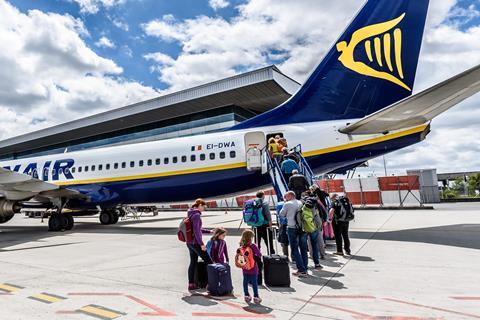 Ryanair will therefore "reduce frequencies so that we tailor our capacity to demand over the next two months".
The reductions will be "heavily focused" on countries such as Spain, France and Sweden, where coronavirus case rates "have led to increased travel restrictions", it states.
The carrier laments a "uniquely restrictive Green list" of destinations in its Irish home market, where capacity cuts will also be made.
Ryanair believes that "proper testing at airports, and effective tracing is the only realistic and proportionate method of supervising safe intra-EU air travel while effectively limiting the spread of the Covid-19 virus".
The Ireland-based carrier said in early August that it had carried 4.4 million passengers in July as it partially restored its network. That figure was 70% down on the same month of 2019, and was achieved with capacity at around 40% of the 2019 level.
It projected that its August capacity would be around 60% of the 2019 level.
Ryanair's move to cut capacity chimes with IATA's decision to revise downwards its projection for European passenger numbers this year.
The airline industry association said on 13 August that it now expects passenger numbers to decline by around 60% in 2020.