Ryanair intends to operate just 40% of 2019 capacity during the coming winter season, continuing the trend seen for October operations.
The Irish carrier blames "increased flight restrictions" imposed by European governments, which caused forward bookings to "weaken slightly" in October and "materially" in November and December.
The low-cost carrier had already announced in mid-September that its October capacity would be 40% of prior-year levels as the summer season drew to a close. It had previously expected to operate capacity at around 60% year on year during October and the winter months.
Of the near-term outlook look, Ryanair group chief executive Michael O'Leary notes that the carrier will "continue to actively manage our cost base to be prepared for the inevitable rebound and recovery of short-haul air travel in Europe once an effective Covid-19 vaccine is developed".
In the meantime, it expects to operate at 70% load factors over the winter, which suggests its full-year traffic will fall to 38 million passengers for the 2021 fiscal year. Ryanir notes that there is still a downside risk to this number.
It flew nearly 150 million passengers in the 2020 fiscal year.
Bases in Cork, Shannon, and Toulouse will close over the winter season, Ryanair confirms, adding that it has already announced significant fleet cuts at bases in Belgium, Germany, Spain, Portugal and Vienna.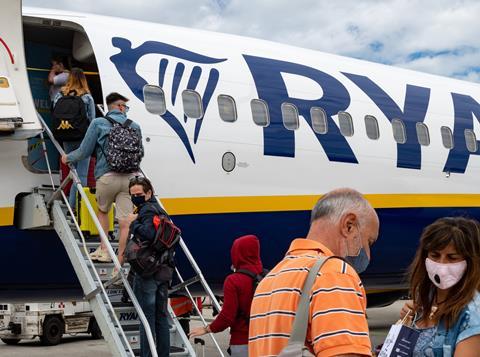 "We have continued to flex our capacity in September and October to reflect both market conditions and changing government restrictions, with the objective of sustaining a 70% load factor, which allows us operate as close to breakeven as possible and minimise cash burn," states O'Leary.
"There will regrettably be more redundancies at those small number of cabin crew bases, where we have still not secured agreement on working time and pay cuts, which is the only alternative," he adds.
O'Leary urges European governments "to immediately, and fully, adopt the EU Commission's Traffic Light System, which allows for safe air travel between EU states on a regional basis to continue".