Irish low-cost carrier Ryanair carried 9.5 million passengers in December as demand was clipped in the holiday month by concerns around the Omicron variant of Covid.
Ryanair, which has enjoyed a strong return in traffic over the second half of 2021, had originally expected to fly between 10 and 11 million passengers in December. However last month it lowered expectations to between 9 and 9.5 million as a result of fresh travel restrictions imposed in December.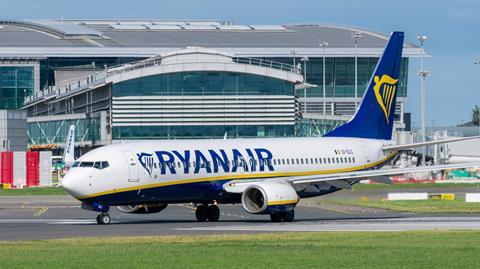 It marks Ryanair's lowest monthly passenger level since July and follows four consecutive months where it had flown more than 10 million.
Similarly December's load factor of 81% was five percentage points down on November, a further sign of the pressure on demand in the month.
Ryanair carried just over 62 million passengers over the second half of 2021. This compares with a little over 10 million over the first half, when tight lockdowns were in place across Europe. It means Ryanair carried around 20 million more passengers in the calendar year than it did in 2020, but less than half the 154 million it flew in the 2019 calendar year.
The Irish carrier has previously indicated it expects to carry only between 6 and 7 million in January – rather than the 10 million originally envisaged – having cut its capacity for the month amid the Omicron restrictions.