Ryanair chief executive Michael O'Leary describes a petition handed to the European Commission today as the next step in long-running efforts to force France to protect services overflying the country from air traffic control (ATC) strike disruption.
O'Leary was speaking from Brussels after earlier today presenting the petition, with over 1.1 million signatures, to the offices of Commission president Ursula von der Leyen.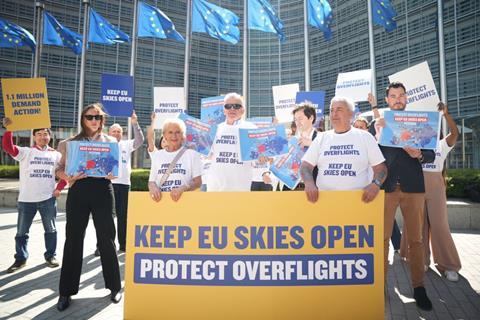 It calls for the Commission to take action to prevent overflights being cancelled by countries when there is domestic ATC strike disruption, a problem most notably seen in France.
While France protects a number of domestic and short-haul flights through minimum service rules, Ryanair points to the example of other European countries which instead protect overflights during such action.
"The French policy of disproportionately cancelling overflights is manifestly unfair and this is what the European Commission is here to protect," says O'Leary."
"One of the great freedoms of Europe is the freedom of movement. You cannot have that single market just closed or shut at the whim of a French ATC strike.
"It already happens in Spain, where they protect overflights during ATC strikes," he adds. "We have now submitted a very heavy petition this morning comprising 1.1 million passenger signatures who want the EC to take action to project overflights. We say they must protect 100% of overflights. We respect ATC members' right to strike, France though protects domestic flights using minimum service laws."
While Airlines for Europe (A4E), of which is Ryanair is a founding member, has for several years pressed for action to limit overflights being hit by national ATC strike action, the Irish carrier has in particular stepped up its campaign, including the current petition.
"There is a process here under EU legislation where you can submit a petition if you can get 1 million signatures and there is a legal requirement for the Commission to take that on board and act – or give a reason why they won't," O'Leary explains.
"Do we want them to pass legislation? Actually, no. The Commission has lots of soft power. The Commission can use that power to lean on France. They don't have to take legal action against France.
"If there are going to be strikes, especially in the case of France because of its location, protect the overflights. Do what other EU states already do. We don't want legislation, because legislation will take 25 years. We want the Commission to put pressure on France to act.
"If nothing happens we will keep campaigning," he adds. "A4E has been campaigning on this same issue for four, five years. It's another step in a long campaign that we expect to see vindicated.
"If the Commission don't take action on receipt of a petition from 1.1 million of its citizens, I think we have some legal recourse after that."