European low-cost carrier Ryanair lifted passenger numbers 9% to 17.4 million in September with load factors unchanged at 94%.
The continued strong traffic performance came as lower than expected deliveries of Boeing 737 Max 8 for the remainder of the year prompted Ryanair to make cuts to its planned winter schedule.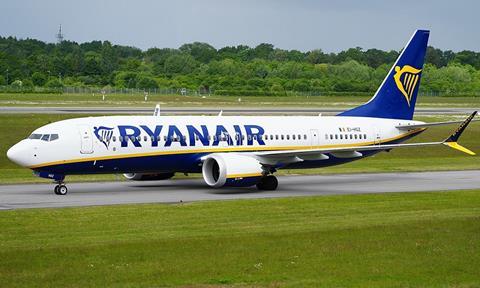 Ryanair had expected to take delivery of 27 aircraft between September and December, but on 28 September said "due to production delays at the Spirit [AeroSystems] fuselage facility in Wichita, combined with Boeing's repair and delivery delays in Seattle" it now expects to receive just 14 Max jets between October and December.
The Irish carrier says the delivery delays have prompted it to cut planned aircraft at its Charleroi base in Belgium by three, at Dublin by two, and take five out of the planned aircraft from across four of its Italian bases. Resulting flight cancellations will take effect from the end of October.
Ryanair says it does not expect the delays to have a material impact on its target of carrying 183.5 million passengers for the year ending March 2024 – a figure up on the almost 169 million it flew in the period to March 2023. However, it adds that "if the delays worsen or extend further" into the first three months of 2024, it may have to "possibly adjust [the target] slightly downward."
The carrier says it is in talks with Boeing to accelerate deliveries over the January to May period as it seeks to ensure it receives all the 57 Max jets it was anticipating ahead of next summer's peak.