Irish budget carrier Ryanair is set to close its base at Frankfurt Hahn airport in November as part of wider cuts after failing to reach agreement on cost savings with German pilots.
In a company memo sent to the airline's Germany-based pilots, the low-cost carrier says that having been informed by the Vereinigung Cockpit union that pilots had rejected proposed cost-savings, it "must move" on alternative measures to deliver savings.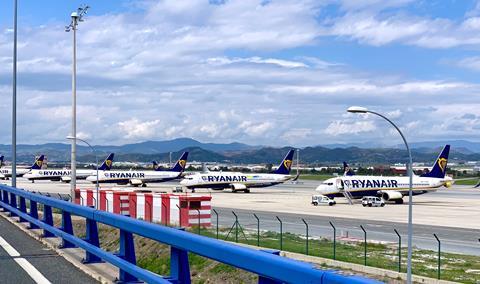 These measures include the planned closure of its long-standing Hahn base - the airline's second mainland Europe base when it opened in February 2002 - from the start of November.
It also warns its Berlin-Tegel and Weeze airport near Dusseldorf bases "are likely to close before" the sart of the winter 2020 season. It will issue an update on this in the next week.
It further adds that it is "over-crewed" for pilots at its Frankfurt, Berlin Schonefeld and Cologne bases and that once the various base closures have been addressed, it will deal with these surpluses.
The union notes that just under half those balloted voted in favour of the Ryanair deal. "In doing so, they support the opinion of the executive board of Vereinigung Cockpit that the required collective agreement would have had the potential to harm both the affected members of [Ryanair subsidiary] Malta Air and the entire pilot community across Germany," the union says. It is urging Ryanair to return to the negotiating table.
Ryanair, which operates these German bases through its Malta Air unit, says that the agreement put to the ballot covered 20% pay cuts - which it says would have been restored over a four-year period and is on a similar basis to cuts agreed by over 70% of other pilots across the group..
The carrier has been attempting to restructure its costs following the sharp drop in demand for air travel amid the coronavirus crisis. Earlier this month Ryanair's Irish and UK pilots agreed to a temporary 20% wage cut.
Another Ryanair unit, Lauda, at the end of May said it was closing its Vienna base after a pay deal was rejected, but later reversed the closure after a majority of pilots and cabin crew backed a new collective labour agreement.