Scandinavian carrier SAS will put a greater emphasis on the leisure segment as it adjusts its network in line with the emerging post-pandemic market dynamic.
SAS today launched a new long-term restructuring plan, including a deepened annual cost-savings target of SKr7.5 billion ($800 million). That plan in part aims to reset the carrier's cost base to better compete in the market.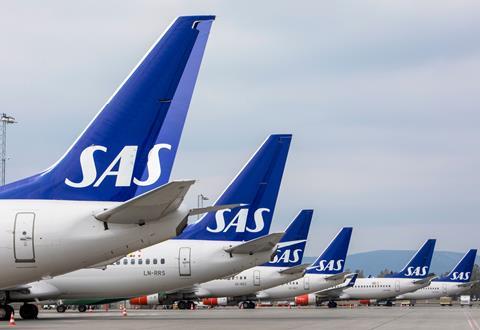 Presenting the carrier's first-quarter results today, SAS chief executive Anko van der Werff said: "We are finding ourselves in a different market. Travel patterns have really changed. You can see that in terms of booking windows, in terms of price-points and mix of passengers, and that mix has now gone with a higher number of leisure travellers.
"In the end, relatively speaking, the balance of our capacity [will be] a bit more towards the leisure market, certainly during the peaks. This summer we will be flying more to southern Europe then we have ever done," he adds.
"We see corporates changing their behaviour and I think going forward – relatively speaking – will focus more on the leisure segment," van der Werff says, without specifying by how much that balance might change."We were 50:50. Business is our stronghold – we have a strong network – and that we will keep on doing.
"We have a very powerful brand that is built on several pillars we will not change," he adds, highlighting elements including the airline's onboard product, reward programme and network reach through alliance membership.
"What we will do is change fundamentally our cost structure. We have to be fully competitive," he says.
The carrier's wide-ranging SAS Future plan includes elements such as digital investment and efficiency gains through new technology and sustainable fuels.
It sees a notable portion of the savings coming from operations, including a review of its fleet and network requirements. Van der Werff notes the carrier has already seen improvement in its aircraft utilisation
"There are certain parts of our business that work well, there are certain parts – such as the long-haul to Asia – that clearly don't work very well," he adds.
Notably the airline has just disclosed plans to launch a new base this summer at Bergen, established under a new SAS Link unit which will deploy Embraer 195 jets. It says smaller aircraft are required on some domestic routes because of reduced business and higher leisure demand and increased competition.