Amsterdam Schiphol airport's operator will from the start of the summer season lift restrictions on the number of departing passengers which have been in place amid continued operational challenges following the sharp jump in travel demand last summer.
However while Schiphol chief executive Ruud Sondag believes more travel will be possible in time for the busy May holiday period, he flags the airport will need to work with airlines, the Dutch border force and handlers at the airport to prevent delays at peak times – particularly in the morning.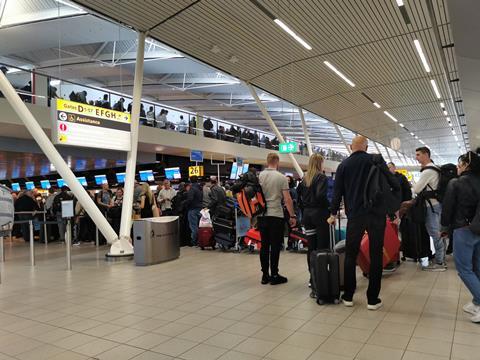 While several European hubs struggled last summer to keep pace with the sharp pick-up in demand amid labour shortages, particularly of security staff and ground handlers, challenges have been particularly acute at Schipol and the Dutch airport has continued to cap the number of departing passengers during the winter.
Schiphol today says the restriction on passenger numbers is no longer necessary. However it notes there are times in the new season starting at the end of March where Schiphol and its partners expect more travellers in the morning peak (06:00-11:00) than the system at Schiphol can handle.
It will hold follow-up talks with partners at the airport in a bid to "resolve this issue in a timely and proactive manner" with the aim of ensuring passengers do not face lengthy queues during this period.
"I am pleased for our travellers, employees and airlines with the progress we have collectively made," says Sondag. "Things are looking good heading towards the May holidays. From the start of the 2023 season at the end of March, we are going to scale up further in a responsible and phased manner, in the interest of those travellers, employees and airlines."
Schiphol says security companies at the airport have taken steps to recruit more staff, including improvement employment conditions. This has helped it recruit around half the 850 more security officers Schiphol estimates it requires and the airport is optimistic the remaining shortages will be resolved in the lead-up to the summer holidays.
"We are not going to take any risks," Sondag says. "We want to once again offer the quality and certainty that everyone can expect of Schiphol. That's why we are working with our partners at the airport to tackle the remaining bottlenecks as we head towards the May holidays and beyond."
The Dutch airport's biggest operator, KLM, says it is positive about Schiphol's forecasts regarding the coming period and the May holidays.
"It remains important for all parties in the sector to continue monitoring the progress of staff recruitment in order to provide passengers with sufficient quality and security, even at peak times at the airport," it says.