Dutch airports operator Royal Schiphol Group expects to cut hundreds of jobs as the coronavirus crisis stymies demand for air travel and creates uncertainties around how quickly traffic will recover.
Outlining an adjusted cost outlook today, the group states that it is aiming to reduce overall operating expenses by 20-25% in 2021 and 2022.
Among several measures planned towards that aim, Schiphol Group's workforce of around 3,000 employees will be reduced "in the order of several hundred positions", based on a "social plan" it will develop with unions.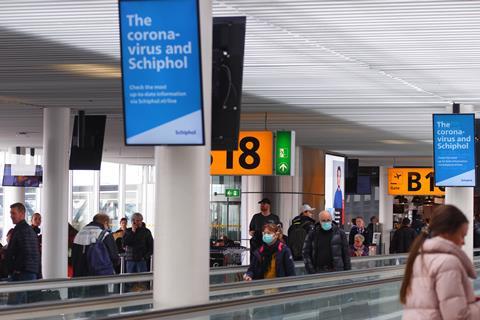 The move to cut jobs came as the group outlined its performance during a bleak first half of 2020.
Passenger numbers at Schiphol Group's main Amsterdam Schiphol hub were down 62% in January-June, with its other commercial airports – Eindhoven and Rotterdam The Hague – also seeing significant declines.
Some improvement in demand has been since the end of the period, the group notes, with passenger volumes rising from -97% year on year in April and May, to -74% in the third week of August. It adds, however, that market uncertainties make it "difficult to predict the development of traffic in the near future".
Beyond this year, Schiphol Group also cites predictions that air travel demand is not expected to return to 2019 levels until the "2023-2025 time frame".
"The outlook for the coming years is very uncertain, and depends on the course of the pandemic, whether a vaccine becomes available, international coordination in travel measures, the profile of the economic recovery and behavioural changes by passengers and businesses," the group says.
In financial terms, Schiphol Group recorded a net loss of €246 million ($293 million) for the first half of 2020, compared with a profit of €133 million in the same period of 2019.
Alongside the fall in passenger numbers, cargo volumes were down 15% in the period.
For the whole of 2020, the group projects a decrease in passenger numbers of between 55% and 72% compared with 2019.
In March, Schiphol Group announced that it would tap the Dutch government's business bailout programme, and notes in its latest filing that it plans to seek further funds from the wage-support scheme.
At the end of July, Dutch flag carrier KLM announced plans to cut 15% of its workforce, weeks after a €3.4 billion state-support package for the airline was approved by the European Commission.