Amsterdam Schiphol airport's operator made a loss of €77 million ($82 million) last year, after incurring an extra €120 million in costs as it struggled to keep pace with recovering traffic demand amid ongoing labour shortages.
While passenger volumes at the Dutch hub more than doubled to 52.5 million in 2022, this growth was itself limited by caps on the number of departing passengers Schiphol was forced to implement to reduce cancellations and delays.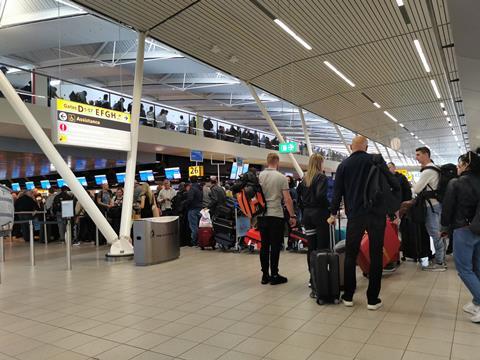 Despite the cap on traffic, the boost in passenger numbers helped revenues at Royal Schiphol Group, which also operates Eindhoven and Rotterdam The Hague airports, climb 82% to almost €1.5 billion in 2022. However costs rose sharply over the same period, with a 50% jump in outsourcing and external expenses.
"Upscaling issues have overshadowed the operational performance of Schiphol. To support recovery from the operational issues, Schiphol incurred extra costs of approximately €120 million," Royal Schiphol Group says in releasing what it terms are "poor" financial results for 2022.
While the loss of €77 million compares badly against a profit of €104 million in 2021, that performance was helped by one-off gains and at an underlying level as Schiphol cut losses last year.
Royal Schiphol Group chief executive Ruud Sondag says: "Never before in Schiphol's history have we disappointed so many travellers and airlines as in 2022. Our efforts and hard work did not lead to the necessary improvements in the system and, as a result, we were not able to provide the service we wanted. 2022 will therefore go down as a bad chapter in our own history books.
"But it is also a chapter we will not forget, so that all new chapters we write will be better. We are working hard on this, and in 2022 we started to implement structural improvements. Because we have to do better. And I am convinced that we can."
Sondag succeeded Dick Benschop in November, after the latter stepped down amid fresh operational challenges in September. Further management upheaval came in January when Royal Schiphol Group chief operating officer Hanne Buis departed after a "difference of opinion" between the management and supervisory boards could not be bridged.
In January, Schiphol announced departure caps in place since last summer would be lifted, but said it would need to work with airlines, the Dutch border force and handlers to prevent delays at peak times – particularly in the morning.
Dutch daily De Telegraaf has reported the airport may need to reimpose passenger caps in April and May due to continued labour shortages, though Schiphol has not yet announced its plan for the period.
While traffic recovered in 2022, Schiphol passenger numbers remain almost 20 million down on the 71.7 million high handled in 2019.
"Full traffic recovery towards pre-pandemic levels remains uncertain and is subject to development of Covid-19 and corresponding travel restrictions, operational constraints to cope with the strong pick-up in demand, and – in the medium term – the announcement by the Dutch Government to cap the number of flight movements at Amsterdam Airport Schiphol to 440,000 as November 2024," Schiphol says.
The latter marks a separate capacity challenge for Schiphol after the Dutch government last summer proposed a 'new equilibrium' between flight activity and noise pollution, meaning the airport may no longer exceed the enforcement points for noise nuisance.
In practice, this would mean Schiphol could only handle a maximum of 440,000 flights a year instead of 500,000, and is 20% less than the 540,000 envisaged under a previous government growth pathway. Home carrier KLM has warned that this would erode its ability to operate a hub function from the airport.