Amsterdam Schiphol airport's operator is proposing to ban take-offs and landings at night and all private jet operations as part of measures to reduce noise pollution at the Dutch hub.
Schiphol airport is also dropping plans for an additional runway and will tighten rules to limit operations by the noisiest aircraft under proposals for implementation by 2025-26.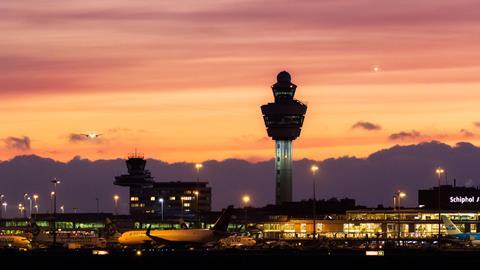 Its measures follow the Dutch government's aim for a "new equilibrium" between flight activity and noise. The government is proposing capping maximum annual departures at the hub to 440,000 – 12% below the existing level and 20% under a previous planned growth path. Schiphol has since cut capacity from the coming winter season to 460,000 flights a year – a decision airlines are challenging in the courts.
Royal Schiphol Group has outlined fresh measures it says will lead to a "quieter, cleaner and better aviation".
Specifically it plans to cut 10,000 night flights a year by no longer allowing aircraft to take off between 00:00 and 06:00 or land between 00:00 and 05:00. It also plans to limit the re-allocation of flights to end-of-night or early morning "as much as possible".
Schiphol intends gradually to tighten noise standards for aircraft that are allowed to use the airport.
While the tighter rules will apply to air freight operations, Schiphol acknowledges cargo flights "are currently struggling to keep their slots" at the airport due to international slot regulations.
As a result it plans to "safeguard cargo" by allocating 2.5% of the available take-off and landing slots for these operations.
Schiphol is proposing a ban on private jets and small business aviation. It argues this causes a "disproportionate" amount of noise nuisance and carbon dioxide emissions per passenger.
"About 30% to 50% of these private jet flights are to holiday destinations like Ibiza, Cannes and Innsbruck," it says. "Sufficient scheduled services are available to the most popular destinations flown to by private jets. Capacity for social traffic like police and ambulance flights will remain unchanged."
Schiphol says modelling shows the number of people around Schiphol experiencing severe nuisance will fall by approximately 16% and the number of local residents experiencing severe sleep disturbance will fall by approximately 54%.
The airport has dropped plans for a parallel Kaagbaan runway and is asking the government to revoke the reservation. "Land for his runway has been reserved at Rozenburg, Rijsenhout and Schiphol-Rijk. This reservation puts unnecessary pressure on the already scare space in the area," it says.
Royal Schiphol Group chief executive Ruud Sondag says: "Schiphol connects the Netherlands with the rest of the world. We want to keep doing that, but we must do it better. The only way forward is to become quieter and cleaner more rapidly. We have thought about growth but too little about its impact for too long.
"We need to be sustainable for our employees, the local environment and the world. I realise that our choices may have significant implications for the aviation industry, but they are necessary. This shows we mean business. It is the only way, based on concrete measures, to regain the trust of employees, passengers, neighbours, politics and society."
Schiphol and the central government will establish an environmental fund for the local area, to which it will make annual payments of €10 million ($11 million) between now and 2030.
KLM, the airport's biggest operator, says it is "surprised" that Schiphol is "independently coming up with suggestions that have far-reaching consequences for airlines" without involving other relevant parties. "Only a joint, sectoral approach will lead to aviation that is in balance with the environment and the climate," it says.
The airline plans to submit its position on countering noise and CO2 emissions to the goverment by 15 June in consultation with the other airlines based at Schiphol, its strategic partner Delta Air Lines and aviation sector organisations. "Schiphol remains welcome to join this," it says.