Of the hundreds of concepts evolving for zero-emission aircraft, one that is attracting increasing interest is the electric seaglider being developed by Regent Craft.
The hybrid boat-plane, which is designed to operate from docks instead of airports, and fly between 3-10m (9-32ft) above the water's surface, has secured a number of airline commitments over recent months.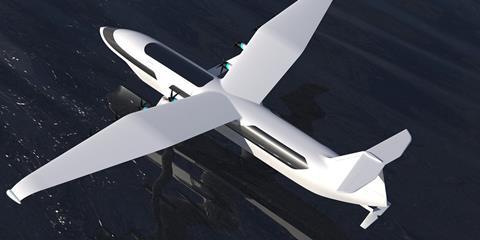 Regent, using new avionics and structural technologies, is about to test a quarter-scale Seaglider prototype off Rhode Island.
"It's basically high-speed rail without the infrastructure cost," says Billy Thalheimer, Regent's co-founder and chief executive. "It's half the price of an aircraft, it's faster than a ferry and it completely eliminates emissions."
The entry-level Viceroy will carry up to 12 passengers and two crew, be easily convertible for freight, and, Regent hopes, enter service by 2025.
Initially, it will reach up to 162kt (300km/h), for up to 162nm (300km), though range will improve with battery technology.
Next will be the 50-100 seat Monarch, designed to fly up to 323nm at 270kt, with 2028 targeted for certification and service entry.
Seagliders cannot operate from or over land. But for coastal markets, or destinations divided by water, from urban harbours to islands, they are taking off.
Viceroy's launch customers include Southern Airways Express and its Hawaiian subsidiary Mokulele Airlines, New Zealand start-up Ocean Flyer, Mesa Group, New York's Fly the Whale, and two marine operators, the UK's Brittany Ferries and Croatia's Split Express.
Together with venture capital funds, Hawaiian Airlines has also invested in Regent to help design the Monarch, which it sees as a fit for its intra-island operations, now served mainly with Boeing 717s.
Regent recently partnered with Pacific Current, part of Hawaiian Electric Industries, to develop a Hawaiian network and infrastructure with Mokulele.
"The Seaglider network gives us the ability to stand up a fast, convenient, affordable transportation solution that will not require passengers to have to go to an airport," says Mokulele chief executive Stan Little. "This will enable our airline to offer new services that aren't possible today."
New Zealand start-up Ocean Flyer saw the same opportunity, and more.
Two years ago its sister company, charter airline Air Napier, decided to start scheduled flights to under-served regional locations.
But chief executive Shah Aslam encountered a shortage of right-sized aircraft, a lack of airport access, or no airports at all.
With aviation decarbonising, he turned to electric aircraft, ordering 25 Seagliders – 15 Viceroys and 10 Monarchs – in a $427 million commitment.
"Around 75% of New Zealand's population lives close to the coast," says Aslam. "So any city that has a body of water, we can serve."
Airports are constrained by curfews, weather, and air and ground congestion, he adds, but notes marine ports are not.
And because Seagliders fly so low, they would be governed by maritime rather than aviation rules, neither requiring air traffic control nor limited by airport operating hours.
"We've spoken to 11 ports around New Zealand, and they've welcomed us with open arms," he says.
So, too, have freight customers, seeking sustainable, speedy alternatives to New Zealand's limited road and rail infrastructure, and connectivity between its two islands. "We can fix that," says Aslam.