Singapore Airlines Group expects to ramp up capacity to several parts of its network from the end of the year, as it targets operating at around 90% pre-pandemic capacity by March 2024.
The network rejig – announced alongside its first-quarter financial results – will also see mainline operator SIA "restructure" its flights to several cities in India by transferring operations to low-cost unit Scoot.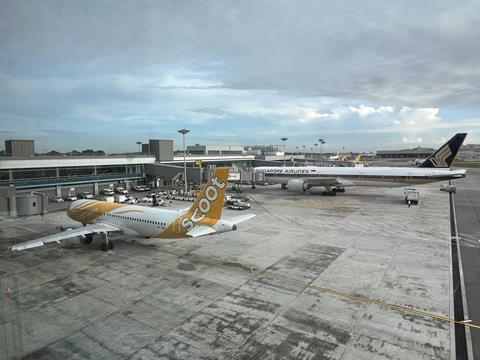 During the northern winter operating season, which runs from 29 October to 30 March 2024, SIA is expected to increase capacity to Hong Kong, as well as a number of points in Japan (Fukuoka, Nagoya, Osaka Kansai and Tokyo Haneda) and Thailand (Bangkok and Phuket).
The airline will from November increase operations to six cities in Australia and New Zealand – Adelaide, Brisbane, Christchurch, Melbourne, Perth, and Sydney – on the back of strong demand. From end-January through end-March, SIA will also increase flights to Frankfurt.
Scoot meanwhile will increase flights to three points in its network: Chiang Mai, Davao in the Philippines and Jeddah in Saudi Arabia. Scoot's flights to Athens and Berlin - its only European operations - will also be combined into a single Singapore-Athens-Berlin flight that operates thrice weekly.
As for the group's India network, three cities – Bengaluru, Chennai and Hyderabad – will be affected by the network adjustment. SIA will transfer a number of services to Chennai to Scoot from 5 November, after increasing its frequencies to the city to thrice-daily operations.
SIA will also take over Scoot's daily flights between Singapore and Hyderabad, and increase its operations to 12 weekly flights. Meanwhile, SIA's Bengaluru services will be cut to just twice-daily operations, down from the current 16 flights a week.
The group states: "These adjustments are part of the continuous review of the SIA Group's network, and reflect its ability and flexibility to adjust operations between SIA and Scoot to meet evolving customer demand."
For the three months to 30 June, SIA Group posted an operating profit of S$755 million ($570 million), up 36% year on year. Group revenue rose 14% year on year to S$551 million, driven mainly by a 37% jump in passenger revenues.