Inclement weather and unspecified "unexpected air traffic control issues" caused severe delays in commercial aviation across the USA this weekend, hitting Southwest Airlines particularly hard and stranding thousands of customers.
The Dallas-based low-cost carrier says on 10 October it is working to restore its operation.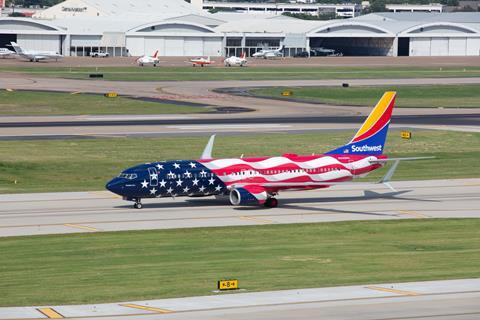 "We experienced weather challenges in our Florida airports at the beginning of the weekend, challenges that were compounded by unexpected air traffic control issues in the same region, triggering delays and prompting significant cancellations for us beginning Friday evening," Southwest says. "We've continued diligent work throughout the weekend to reset our operation with a focus on getting aircraft and crews repositioned."
The FAA confirms airspace in and around north Florida was affected.
"Flight delays and cancellations occurred for a few hours Friday PM due to widespread severe weather, military training and limited staffing in one area of the Jacksonville en route centre," the FAA writes on twitter. "Some airlines continue to experience scheduling challenges due to aircraft and crews being out of place."
Unconfirmed reports in Jacksonville, Florida media say that numerous federal employees walked out in protest of the national vaccine mandate, set to take effect this month.
According to flight tracking website FlightAware.com, by 15:00 Pacific TIme on 10 October, Southwest cancelled 28% of its schedule, or 1,019 flights. Another 668 flights – 18% of its total flights – have been delayed.
A day earlier, 808 flights (24% of its total) were cancelled, with 1,187 flights (36%) delayed.
While some major US airlines have told employees they must be vaccinated against Covid-19, some pilots are seeking exceptions, citing fears that getting the vaccine could cause "career-ending side effects". At least one major pilot union has also pushed back.
In a letter to aviation regulators, the White House, and other high-ranking policy makers in Washington DC, American's pilot union Allied Pilots Association (APA) warned earlier this month that forcing pilots to get the Covid-19 vaccine could lead to "mass terminations" and a travel crunch in the traditionally busy end-of-year holiday season.