Southwest Airlines has fully joined the Sabre global distribution system (GDS), allowing corporate accounts to more seamlessly access, book and modify travel on the low-cost carrier.
The Dallas-based airline says on 26 July that the move will help it "remove friction" from the booking process for business travellers. The airline's executives said last week that they expect this segment of the flying public will return in greater numbers in the second half of this year.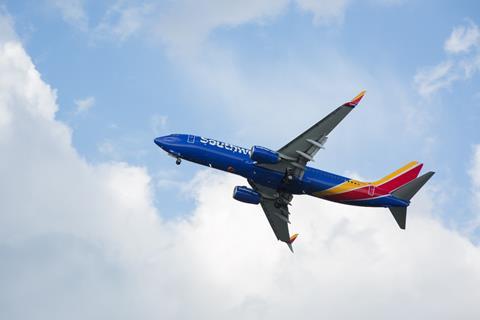 For the past quarter-century, it was already possible to book and cancel Southwest flights on the Sabre network. However, any other booking modification required a direct phone call to the airline.
"Today's announcement brings us up to an industry standard level, thus putting us on the same playing field and able to offer the same level of service on the airline business travelers and travel decision makers trust for their travel needs," the airline says.
The travel technology company, meanwhile, calls the announcement "an important milestone… to shop, book and service Southwest flights on behalf of business travellers".
The carrier launched its "Southwest Business" programme in 2019, and joined Travelport's GDS in May 2020, with Amadeus following in October 2020.
Southwest says it will still not be offering its fares on online portals like Expedia.com and Travelocity.com – sites that typically cater to leisure and cost-conscious passengers.
On the company's second quarter earnings results call on 22 July, airline executives said they have been seeing a slow rise in corporate bookings over the past several weeks and expect that business travel will reach 50% of pre-coronavirus 2019 levels by the end of September. If the trajectory continues, the airline "will certainly beat that by the end of the year", Southwest's president Tom Nealon had said.